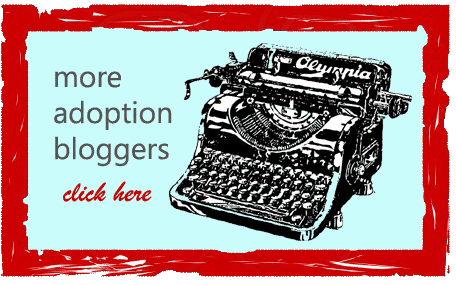 There are Many Many Adoption Blogs!
Adoption is not just one person's story or one person's truth. We all have voices and unique perspectives on the experiences.
When I started blogging, there was just a handful of us in the small adoption blogosphere, now, I am thrilled that there are so very many. Please feel free to let me know if I have missed any.
Email me with the links at fixadoption at gmail dot com and I will include them. Or get syndicated now. All I need is a feed. 
Reading Blogs from Adult Adoptees
The most important, in my opnion, are the blogs written by adoptees as  they know what we need to do to really fix adoption for the children it affects. Please listen to their words. Take off your blinders, open your heart and hear them.  It's not all about rainbows and butterflys and making YOU feel good.. it's adoption. It's suppose to be about the children. Listen to them..they have voices now.
More Birthmothers Blogging
I think so many of us spent all too many years in isolation with our loss and pain. The industry that took away our children told us to move on and created a set of rules that most of us fail at. We never got over losing our babies and adoption, this one time event that was suppose to fix everything, still continues to affect all of us each and every day. Don't say we are the minority, just listen to what we have to say.
There are also other birthmother blogs syndicated here on Musings of the Lame:
Blogs from Adoptive Parents
The great majority of adoption blogs are still written by adoptive parents. many start blogging to share their stories of finding their children and becoming the "forever family". I don't even try to include them on my list here. Truthfully, I don't want to. The adoptive parents blogs that I include here are, in my opinion  some of the best. These are the role models for adoptive parents; the ones that really understand adoption and accept the imperfect losses involved.
I will also syndicate  blogs from Adoptive Parents if they are acceptable to the overall message on MOTL.
Other Adoption Related Blogs
Adoption does not just affect the baby adopted, the adoptive parents and the birthfamily. Adoption issues affect the spouses of adoptees and their children. The siblings in birthfamilies who lost their brothers and sisters too. There are birthfathers and birth sisters and grandparents and uncles. Every voice is just as important.
And then, we have the children created through surrogacy and sperm and egg doners who are now grown up and have also found their voices. You'll never be able to prove to me that thier stories are not related to adoption as they face so many of the same issues and feelings as adoptees.
Be Published Here!  Get Syndicated Your blog, your story, your words, your voice. You don't have to do anything else but keep on what you are doing the way you are doing it. And after the initial set up, I don't have to do anything either, but your post will be published here on Musings of the Lame. Read More abut getting syndicated on Musing of the Lame right now.