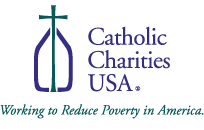 Fails both Infant Exploitation and Social Media Sharing
Sometimes adoption education has a really good outcome and there is positive change and sometimes,  we win the battles, but the war is still on. What happens when a local Catholic Charities thinks is a good idea to post an image of a womb fresh baby in their Facebook page?  Most of the time people will just coo over a new baby picture or making blessing noises. That's it, unless, someone in the adoption community happens to see said image.
What Toledo Ohio's Catholic Charities Did That Was So Bad
This is what went down. On Friday, 1-4-2013, Catholic Charities of the Diocese of Toledo, posted this image on their Facebook page with this "touching" quote"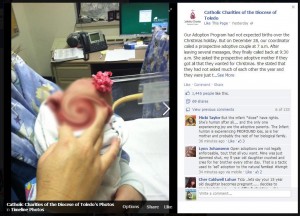 Our Adoption Program had not expected births over the Christmas holiday. But on December 28, our coordinator called a prospective adoptive couple at 7 a.m. After leaving several messages, they finally called back at 9:30 a.m. She asked the prospective adoptive mother if they got all that they wanted for Christmas. She stated that they had not asked much of each other this year and they were just thankful for each other. She informed them that God had one more present for them, and that the present was born on December 27 weighing 6 pounds and 12 ounces. She was not sure the adoptive mother was still on the phone until she heard her belt her husband's name, shouting with glee.

An hour later they were at the hospital cuddling the gift from God. Please join us in Welcoming Miss Hannah to the world!
Upon being found, the same image caused quite a little uproar on our Facebook Adoption networks for many reasons:
The picture is clearly immediately after the birth of this baby. There is no way that the mother of this child had make that life altering decision to become a  "birthmother" yet.  Did Catholic Charities receive the permission of this mother to post an image of her child in a public forum for their own promotional benefits? Greatly doubtful.
This child is being exploited as "feel good " fodder for the adoption marketing of the page on a day that is both intensely private and also, for the mother and child, should the adoption go through, a very painful day of separation. Even if the custody of this baby went to the potential adoptive parents, at this point the child was NOT theirs.
In addition, while I blurred out both the face of the baby and the registration card on the bassinette, when blown up, I could read identifying  information on the card.
What happens if, by luck, the mother of this child decided NOT to relinquish. Everyone should now know that once anything is placed upon the internet then it is public knowledge. How horrific should this little girl happen upon this picture of herself in years hence?  Can you imagine that conversation?
"Mom, you were going to GIVE ME AWAY AS A CHIRSTMAS GIFT?"
The Tale of the Baby Thief Hunter and Warriors at Arms
Lead by the Fab LindaLou, warriors of adoption truth took to the page in groves to comment on the many various reason why this form of maternal and infant exploitation was very wrong. To make matters worse, the manager of the Catholic Charities of the Diocese of Toledo Facebook page, repeatedly removed any comments from the Adoption Army that were truthful or criticized their decision to post the image. If it wasn't a "what a blessing" comment, then the comment was done and deleted;  people were getting banned left and right off the page. Perhaps they thought that we would tire, or that they could ban us all?
Of course, WE know that the more comments a post on Facebook gets, the more it is seen in the news feed and the greater potential that another account will see the post. The few defenders of the image attempted to fight our brave warriors cause THEIR friends and networks to see the page. Plus every time they made a comment it kept the image post at the top of the news feed. Every time someone posted that they were banned, other people wanted to know where and what page was banning folks left and right, so they joined in. I would LOVE to see their stats for the next week. Traffic must have gone through the roof! Can we say backfire?
This happened all later in the evening on Friday night and continued until Saturday. By Saturday at three-ish, we had won the battle and Catholic Charities of the Diocese of Toledo pulled the white flag, which means they removed the image completely!! It was not in their feed, it was not in their images, it was GONE off Facebook. The protectors of infant exploitation had won!!
Social Media Backfire; Exactly What NOT To Do
The moral of this story is:
Don't exploit babies and mothers in their vulnerable state for adoption propaganda and promotional purposes.
If you are, then don't incite the masses with stupid pink bows.
Don't do it on a Friday night as clearly we all have no lives except Facebook and there are many of us.
If you continue not to heed my warnings, don't delete comments made even if you do disagree with them.  On every social media campaign in my professional career  as the Director of Social Media, we always had a process of response for what to do with "negative comments" could hurt a brand. And it was a usual bland response that at least acknowledged the commenter of their feelings and sought to correct the issue in some way. If a comment had to be taken down, then I AlWAYS, even if it meant doing it from my personal account, messaged the user and explained what I had removed and why. Nothing inflames the anger more than outright dismissal and silence. Oh, except for outright banning.
If you are going to continue these practices, and delete comet and ban people, then perhaps you should delete the offensive post FIRST rather than silence the masses. Then massive numbers of people online will not have access to the battle in process. It's an easy estimate to say that with about 400 plus posts made and deleted during the life of this image, that almost half a million people saw it. So, that means way more people saw how Catholic Charities was failing.  Of course, in this case, that also means that half a million Facebook users also got a serious does of adoption education.
 Just remember, there is that thing called a screen shot. So even if you take it down, people remember and they continue to talk about things and even can, say, write a blog post about it.
For us, in the trenches, I call that a huge win! Hats off to the Warriors!!
Did Catholic Charities Silence You?  Be Heard:
Contact Catholic Charities of Toledo Ohio and let them know how they failed:
http://www.catholiccharitiesnwo.org/
Executive Director:  Rodney Schuster 419-244-6711, ext. 210 rschuster@toledodiocese.org
Marketing and Communications Manager:  Andrea Slivka  419-244-6711, ext. 231 aslivka@toledodiocese.org
Adoption Services Healthy Beginning/Pregnancy Support Services: 419-244-6711, ext. 227 or email Joy Shakur  jshakur@toledodiocese.org
Catholic Charities USA :
703-549-1390
General Inquiries: info@catholiccharitiesusa.org
Oh and the best part? I was doing something else while this was happening, though I saw it as it went down. So I am not banned. Guess where this post is getting linked to tonight? I love you guys.