This post was orginally writen in Dec 2010 for GIMH:
The Christmas Tree and Family Traditions
One would not think that a middle class family on suburban Long Island would be trend setters. In many ways, my family was quite unremarkable. My father was a NYC police Lieutenant, my mother a stay at home mom for most of my childhood; yet, somehow they did stuff ahead of their time.
We had one of the first microwaves, we had a VCR from the early days, we were eating pesto way way before it was even close to the culinary level that it is now and we got rid of the artificial Christmas Tree when Sonny and Cher were still married.
For years, the selection and purchase of the Christmas Tree was a much anticipated and adored process. I don't find myself quite as picky as I was in my childhood; memories of extends selections, and inspection of every tree in the lot makes me think that my mother and I made a much bigger deal over finding "the" tree than I care to do now, but, oh, I did look forward to getting the real tree in the house. Part of the tradition, was setting it up the night before we decorated the tree to let the branches "come down" and that night, I would be allowed to sleep under the tree.

Camped out in the hardly ever used living room, I can still recall the smell of that night. Fresh pine needles, the smell of lemon Pledge used to care for the dark colonial pine furniture, the mustiness of the sleeping bag, and the wool of the treasures Oriental carpets all say the beginning of the Christmas season to me.
The tree, however, was only the temporary staging area for the real memories that would come out of their sleepy attic homes the next day; the Christmas Decorations.
A Dusty Box of Family Memories
This discolored cardboard moving box somehow still exists, now living in my own basement, readying itself for its yearly dance into the light. In it is a legacy of my maternal linage; Christmas tree decorations created, collected and passed down from my great grandmother, to my grandmother, my mother, now myself and someday to my own children.
Almost every item in that box holds a memory or tells a story: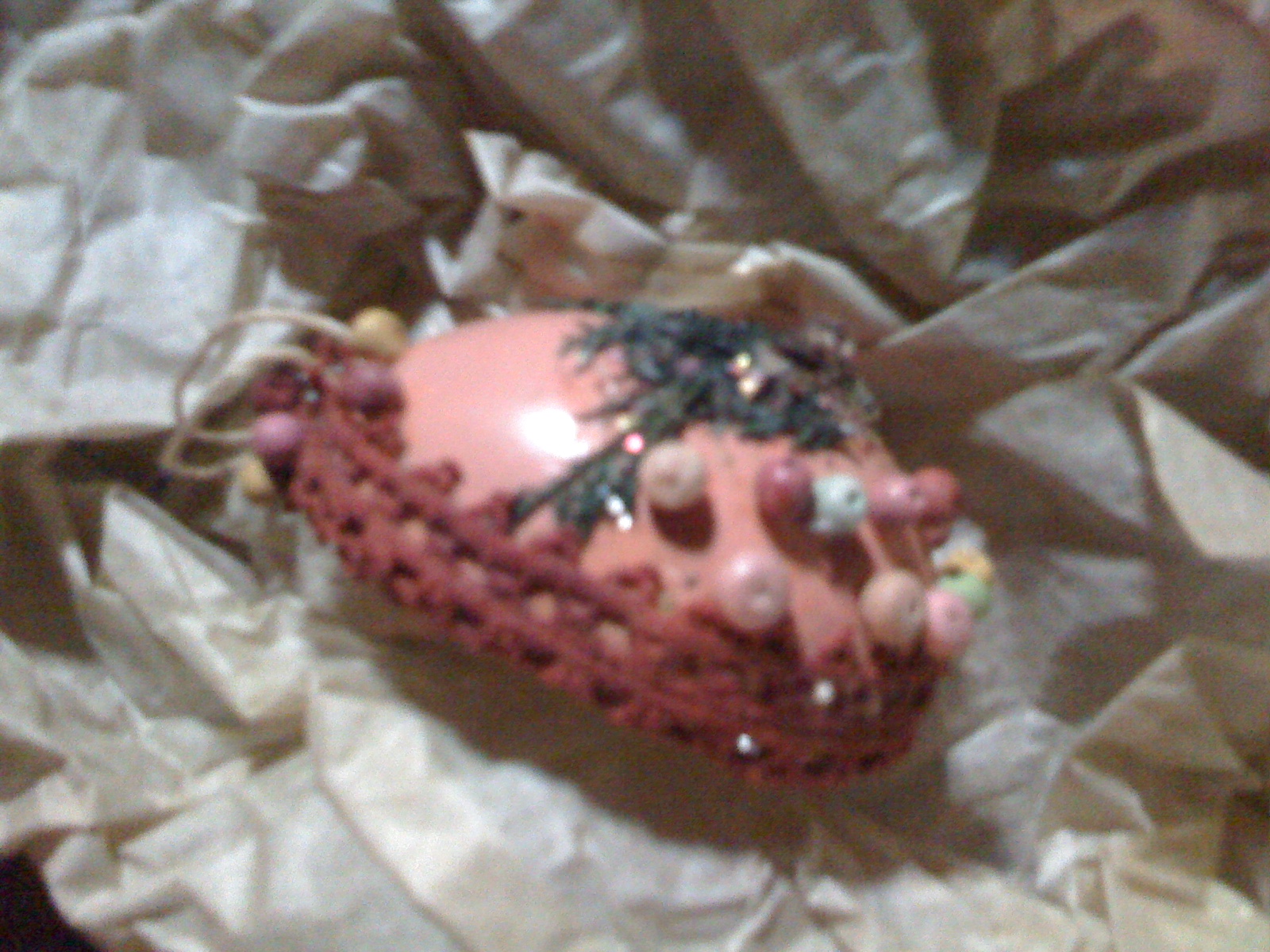 With holiday images cut out from past years Christmas Cards with nail scissors, my great grandmother made ornaments from halved egg shells; painted with nail enamel, adorn with bits of ribbon and lace, sprinkled with age old glitter. For years there were three precious eggs; now, sadly only one remains. The last time I opened the box to find #2 egg crushed, I burst into tears at the lost of this family heirloom.
Pre-WWII , hand blown, glass pieces from when my Grandparents first married also wait. During my childhood, my grandmother was a very typical Italian Grandmother who immediately tried to feed you a meatball the minute you walked through the door. I, the only female grandchild, was, admittedly, spoiled, and anything I admired, share insisted I should have. This extended to any and every Christmas tree ornament I could touch and over the years, I wonder now how her own tree was not bare. It was that way that the few unbroken pre-war pieces made their way to my mother's house and into the dusty decoration box.
There were weird 70′s era brightly colored pieces that came one by one from Grandma's to my hands along with the now slightly damaged beaded "bells" that she bought for me from the hair dresser she went to every week to get her hair "set". It was also in this manner that an antique string of pale blue and silver blown glass bead garlands become mine to own. I hang them every year, at the top of my tree, after the ornaments are done.
Creating Decorations, Creating Family Memories
Then there is the odd red velvet and beaded piece that was made from a kit by my Grandma and I. I still remember sitting with her in the TV room one Sunday, again sitting on dark 70′s colonial pine furniture, making this single ornament as if it was yesterday rather than the 35 years ago that it truly is.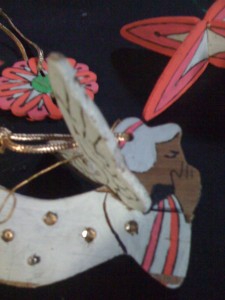 Then, the box holds two collections hand made by my own mother. The predecessors and inspiration for the piece my grandmother and I made; originally probably a dozen separate pieces, my mother made a bunch of beaded pieces. Styrofoam balls in different shapes as big as my fist, covered with ribbons and filaments and beads.. all held in with straight pins, some with large pearl heads like hat pins. My mother made these the Christmas season she was pregnant with me in 1967. I remember her sitting at the kitchen table making the other set of hand pained balsa wood, punched out from another kit. I think I was four or five at the time. That bought of Christmas creation gave birth to an angle with wings, two dimensional shapes fitted together like holiday paper air planes. Silver sequins we applied with glue and a tooth pick. Three or four survive to this day under my feet as I write.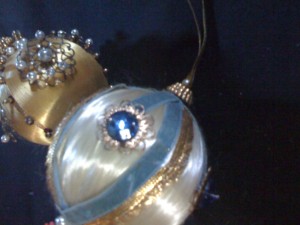 There were the various pieces picked up through the years. At one point, the tradition was made that we would purchase a special new Christmas decoration every year. Somehow that also extended to collecting them from family vacation destinations and then other family members would also add more. There is a piece from Mystic, Connecticut bought in 1979. Why do I know it was '79? Because on a rainy night of that vacation, my parents and I went to see the Frank Langella Dracula at the movie theater and thus began my adoration of vampires and maybe the birth of my teenage "gothness". There was the beeswax "cow" that came home from Vermont. Over the years, the poor cow looks more like a wax alien with a front leg missing and some summer heat smoothing the details; but still I refuse to send it to the trash. Another hand painted wood cow is inscribed on the back with the year and the occasion in my late Aunt Sondra's perfect handwriting" "Gerry's Christmas Cow from Stowe Vermont 1981″.
Passing Down the Christmas Tree
Most of these pieces, except for the single surviving egg, I allow my children to handle, but a separate box that only I can touch holds the remains of what I call the "German glass". I was around five, eating breakfast of Life Cereal while the newly decorated Christmas tree stood proudly in the living room and suddenly, CRASHED to the ground!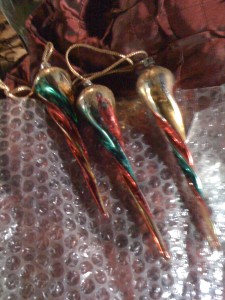 The culprit was my cat, Uncle Albert, who had climbed the first live tree. From that year on, my father's part of the "set up" was to wire it with fishing line and tether it standing upright and Albert proof. However, I do recall my mothers despair when the crash broke so many of her own blown glass ornaments. When my parents first married in 1966, they purchased a bunch of them for their very first tree from.. Gimbles? Lord and Taylor? A now gone store I cannot recall.. I know there were expensive and she was quite upset as they were, only 7 years later, considered "collectibles" and that one could not "get them anymore". Delicate blown glass teapots with tiny spouts and handles, Santa heads in the expected red and unusual gold with glitter hand painted in their whiskers and fur timed hats and matching little houses with more glitter "snow" upon the roofs, brighter colored ovals; purples, blues, pinks, and orange.
And then, the three remaining icicles: long and pointed at the bottom, these three multi colored pieces still are hung at the top branches of the tree every single Christmas I have ever seen by the gold cord I remember my mother tying on when we deemed that the little wire hooks were not cat proof enough. Only one single red Santa head remains to be hung. A gold counterpart broke off at the top and now serves only as a fireplace mantle embellishment. The colorful ovals fared better and almost a full dozen remain. Maybe one tea pot, one coffee pot, a house or two live on; but the three perfect German Hand painted blown glass pieces carefully come out of their bubble wrap each holiday season and I think about eating my cereal and hearing that crash.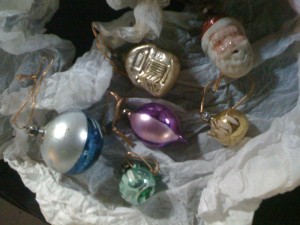 From the collections of my great grandmother down to me; we all added in heritage, traditions and family memories to the Christmas box lineage. I added more over the years, keeping the tradition of a new ornament over year, making some when feeling creative; like a batch now half glued scrapes that I made when I was dirt broke with a baby Garin the Christmas of 1991. That year, I was so proud of myself, baby in tow, getting a tiny tree for 5$ and managing to get it home and up by myself. The decorations I made that year are outdate and ugly, but I think I keep them to remind me of my independence and my triumph that year over divorce, loss and despair. I didn't have a saw to cut off the base of the tree and no "man" to do that task for me. And so, I chopped at the base of that Charlie Brown Christmas tree with a kitchen knife, making a pile of fresh pine sawdust on the cheap gray rug in a half converted barn that was home, until it could fit in the base. It took over an hour and I got a blister, but my baby was going to have a Christmas tree even if there was no Daddy around to make that happen.
On to the Next Generation
The box holds probably over 200 decorations and I have a memory attached to them all. I don't always tell the story for each and everyone every year, but there is always a point, during the hanging, when I feel misty eyed. I try to repeat the significance of some, especially when I need them handled carefully, and to pass on the family history to my kids. In the same vein, with the kids, we have spent many an hour creating our own pieces to add to this box of family history and every year, each child picks out and dates their own new piece to add. The tree is never "done" until the box is empty and every family memory shines exposed for the holiday season.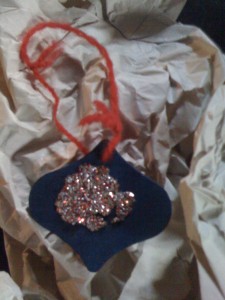 There is the wood and glitter decoration I made at age three in nursery school dated in 1972. Half painted in bright blue finger paints, red and silver glitter and a red yarn tie, it will soon be 40 years old. It holds court over the various decorations my own children have made over the years in school, coming home in tissue paper and tied up with a bow. There is the small glass ball, covered again, with more glitter, that Garin made when he was in nursery school. A smiling Tristan looks at me from inside a frame of popsicle sticks. Egg carton "bells" were decorated with, you guessed it, glitter, by Scarlett when she was barely old enough to hold a paint brush and have glitter pipe cleaners as hangers. My daughter fingers the candy canes I made when I was younger than she is now. My own toothless face at age 7 stares, forever captured in Christmas, back at my "baby" now 8 as he hangs his loved Sponge Bob collection. Garin's long "favorite" ornament, a Hallmark rocket ship that was plugged into a light socket and "blasted off" a million times, now hangs silently, now broken, but in my mind, I hear the sound as it is etched in my memory bank.
Adoption: Destroy the Tree, Break the Line
Somewhere, in another state, another tree that I will never see, holds pieces of my family's heritage. I imagine that nursery schools in Massachusetts also help young student create gifts for parents out of glitter and handprints, popsicles sticks and finger paints. I can only imagine the proud joy of my 4 year old son placing his tissue wrapped creation under the tree. It might have said "mom" on the tag, but it was never meant for me. I don't know if I will ever see a picture of his 7 year old face, smiling and goofy, out from a picture frame or a photo album as I have not one picture of him from ages one to 14 and I surely don't think I will ever see a handmade decoration from him decorating my Christmas tree or be able to carefully place it in the box. In truth, being a birthmother, even in a good adoption reunion, doesn't give me any rights to holidays, and I can only pray that one day I might actual see my son on Christmas to hand him a present. No, I have never done that yet either.
Yes, I get tears in my eyes every year when we decorate the tree. I miss my grandmother and grandfather, now gone. I think about and want to see my own mother again something fierce, but she too, is 16 years gone. I remember the good times and the bad, the ornaments broken and the ones still preserved and I cherish the open spaces on each tree where I imagine new memories taking place. I imagine having grandchildren of my own, making new glitter covered pretties to be wrapped in tissue and, I expect, I will be like my own grandmother, handing out bits of family history, one by one over the years, to children yet unborn. Will I see Max's children ever on Christmas and be able to give them piece of us? I don't know. I don't even know if I will be considered 'Grandma' or if that title too was given away with the shaky signature of a 19 year old girl alone in a dark office so many years ago.
I'm a sentimental fool, I know, and so it is bittersweet every year when only three of my children smile back from their home made Christmas ornaments. In my imagination, if possessions could talk, would my ornaments, speaking softly to each other in their dusty old box all summer, know someone is missing and wonder where their brother is. I know my children wonder now and they ask me if Max will come for Thanksgiving and why doesn't he visit at Christmas. I admit that I fail when answering, often speaking more sharply than I should to hide my own pain, sadness, and the inability to give an answer that would make the child happy. I should, by now, be a pro since the questions grow in intensity and frequency, as their own list of things lost to adoption add up over the year. I pass down the things lost, the years missing, and the grief of a not-brother with no collective family memory to us whether I want to or not.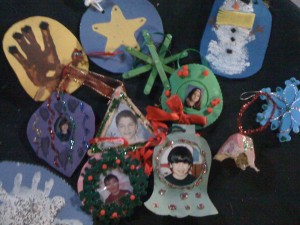 The Ghost of Christmas Never
Never once in that dark room 23 years ago, did I image what I was doing to my beloved Christmas box. Never once could I have seen, at 19, that I was breaking a chain of family lineage that was started four generations past and creating a hole that would continue through to my own great grandchildren. Never did anyone caution me to think about how I would answer the innocent questions of my children and see a yearning in their eyes for just one Christmas of completion, or togetherness, of their brother returned. 
And, never, ever, ever in my wildest dreams would I think that child's popsicle stick, finger paint and glitter encrusted creation would be a most coveted possession and missed, every year, with an intensity that still has the strength to make tears roll down my face as I write this now.
They just don't talk about such things to unwed pregnant girls at adoption agencies. They talk about what's important to that 19 year old girl – the things she will imagine missing with a baby in tow; dates with men who don't like kids, parties and concerts, full night's sleep and the ability to stay out late, college degrees, vacations and new cars. 
They never mention how precious the glitter could be.
Share on Facebook