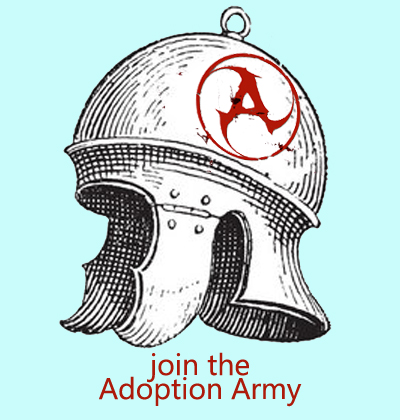 What in Sam Hill is the Adoption Army?
The short answer is it's an email list. I promise not to sell your email or spam you.
The long answer is a bit more complicated.
Strength in Numbers, the Power of Adoption
See, there is a heck of a lot of us that care about adoption corruption, exploitation, coercion, Adoptee Rights and the welfare of our children.
My goal is to use this email list to harness that strength.
Whether it is a new petition, or maybe an article that needs commenting or another person who needs support,I will use the list to keep us all informed.
It's like an Adoptionland Alert System.
What Can the Adoption Army DO?
I'm hoping that we can use this email list for strategic actions.
For example, Anderson Cooper 360 had some nasty pro adoption propagandaon his website. While I commented and all, it would be great if we couldall get together and plan an action. What if we found a direct email to his producers and called for an investigation of adoption coercion or adoptee rights? Say we all did that for one month. Then, the next month, we could focus on Rachel Maddow, then we could move on to someone else like Bill Dedman, etc.
For the most part, I think each of us can even have a simple written document on file that comes from us personally  telling our stories, pointing out some juicy facts, and then just use that over an over again to different journalists and media outlets.
The power will be that we are concentrating our efforts all in one direction, rather than just piecemealing a little at a time. For instance, I called the Adoption Army into Action for the Craigslist Adoption Truth Project
As John Greene said to me in a conversation we had in Chicago at the 2012 Adoptee Rights Demonstration:
We are all in boats rowing away; the time is now for us to point the boats in the same direction and row together!
Let's Get Rowing!
You can either fill out the form below and then click JOIN NOW
or click over to here and see it all pretty-like.
You will have to confirm your email address, etc.
And that's it!
---
 You may leave the Adoption Army at any time, just click here to leave, though I WILL cry.