My Adoption Agency is a Non Profit so They Are Good
It seems that many people want to believe that because many adoption agencies and adoption service professionals have the words " non-profit" in their name, that they must somehow be exempt from any from of monetary corruption.  While I am still hunting down the most recent report claiming  the 13 billion dollars in profits in the adoption industry, to even see if the nonprofit numbers are included in the actual 13 billion, I decided to share a quick bit about nonprofit adoption services.
The Difference between a Profit Driven Business and a Non Profit
So first let's make sure that we all understand the difference between the two.
When you start a business, it is for the financial benefit of its owners and/or shareholders. Profit is the goal and the business pays taxes on that profit.
A nonprofit entity has a mission that benefits the "greater good" of the community, society, or the world, like adoption you know, because it 'saves' children. It does not pay taxes, but it also cannot use its funds for anything other than the mission for which it was formed. So to be clear, money made from adoption can go back into anything they think will further adoption.
Nonprofit organizations can and do make a profit, but it must be used solely for the operation of the organization or, in the case of a foundation, granted to other nonprofit organizations. So, one nonprofit can donate to another adoption nonprofit. Also expense acceptable for a non profit would include payrolls, offices, travel, adoption advertising, etc.
When a for-profit organization goes out of business, its assets can be liquidated and the proceeds distributed to the owners or the shareholders. When a nonprofit goes out of business, its remaining assets must be given to another nonprofit like another adoption agency.
Nonprofit Adoption Agencies;  Follow the Money!
Below is a rather extensive list that I pulled from a charitable watch group.  I did a quick search using the keyword "adoption" and then, because there were over 100 search results nationally, I ran the same search for a handful of states. Now, mind you, not EVERY adoption agency has the word "adoption" in it, so not every agency will be there! For instance, Bethany Christian Services was not, so I pulled  Bethany's reach separately and then added them in. I also pulled out any adoption non profits that were to do with animals not children. So I repeat again, THIS IS NOT NEARLY A FULL LIST, but just enough to give you an idea.
Now I left all the links intact, so you can go to the full list for that organization and pull up the details or go straight to the #990 IRS forms to see the breakdowns.
A few things I have learned to look for when investigating an adoption agencies financials:
Some organizations seem to be doubles, but you will note that it's the same name operating in two different states with separate tax ID numbers. It usually means that they are licensed and operating n both or more states. Sometimes the "officers' in the different branches have different roles. So a president in one state can draw a salary, but in another state she is non paid and visa versa.
Some organizations have names close to the actual agency name, but not exactly the same.  This is because many adoption agencies work as both a nonprofit and a profit arm. They take donations as the nonprofit and then use the business to write off expenses as a loss. Remember, they do not have to play taxes on their profits!  The non profits returns are public, but it's hard to see the real financials when they do both! Look up the website, Google the "other name" and see if the state they are in lists the "owners" of that incorporation.
Make sure you look at the "assets". If an adoption agency has a large number of "assets" then they are essentially reinvesting in swanky posh surroundings, etc.
Also look at what the board members are making. Some do not, but some do pull a nice profit! The Directors/ presidents/founders often have a role on the BOD as well as a paid salary. The regular paid employees will be not listed separately later on.
Our Non Profit Loading in Dough Adoption STAR Example
For instance, I shall look at Adoption STAR for fun as an example. You can see the whole IRS form here: http://dynamodata.fdncenter.org/990_pdf_archive/161/161584581/161584581_201112_990.pdf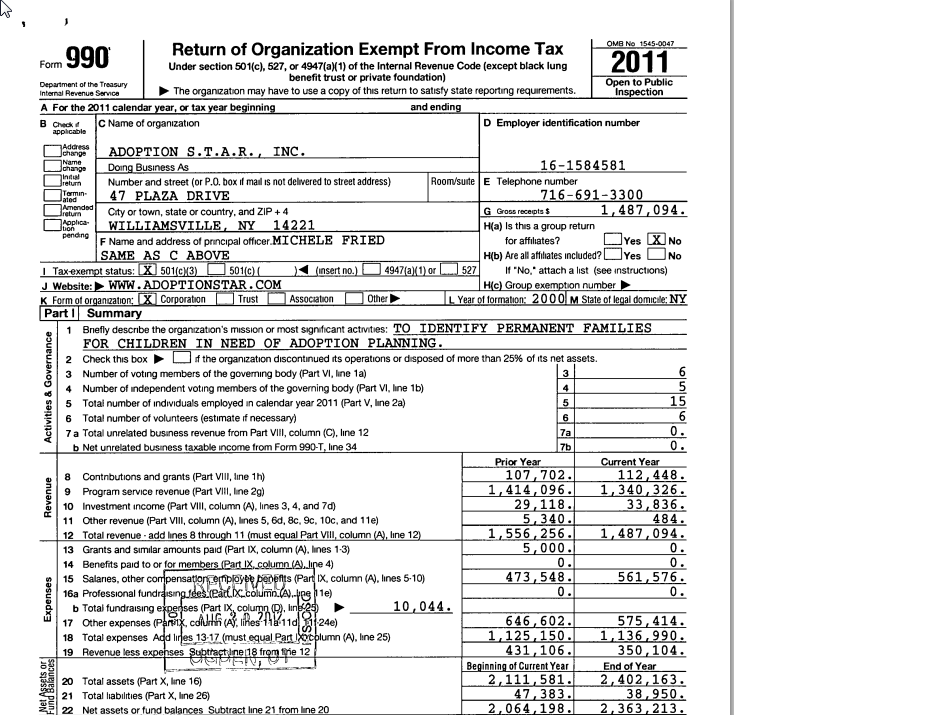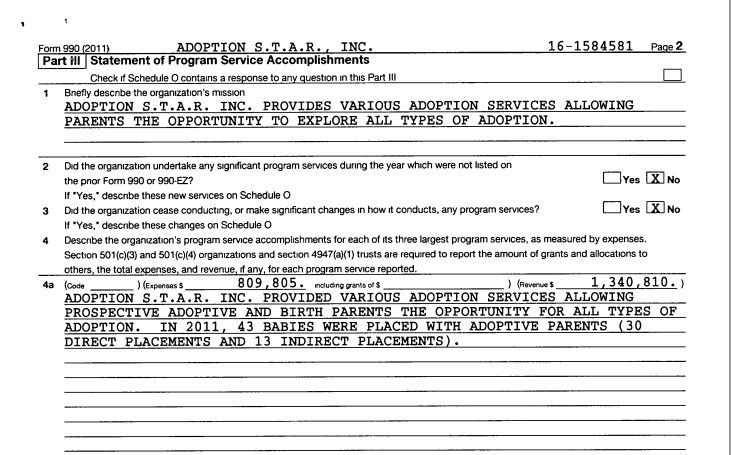 Just what can we see from the first two pages of this adoption agencies non profit tax return for 2011, they are telling us that 43 babies were placed for adoption in 2011.  They brought in $1,487, 094.00  in total revenue ( line 12) for their services in placing those 43 babies. Now granted, they could have had been paying for say "birthmother expenses" for babies that were NOT placed, but.. if we do the math, each of the 43 babies brought in $31,170.37 if we just look at the line 9, the program services revenue and divide THAT by 43.
Thirty Thousand a Baby
Also to note that there are 15 individuals employed per line 5 and per line 15, there was $561, 576.00 paid out in salaries, benefits etc. for the 15 paid employees of Adoption STAR. More quick math and that's $37,438.40 a year.. including everything;  but… let's look at the officers first!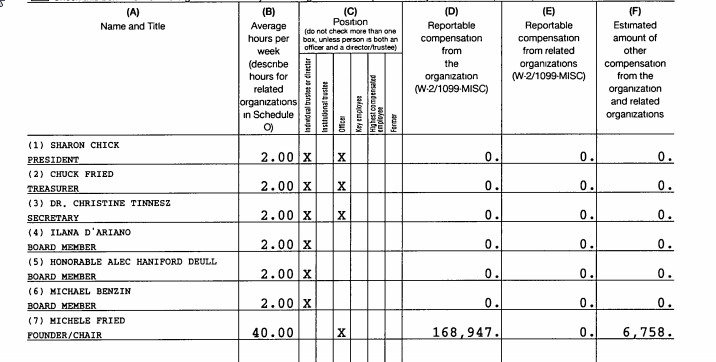 I LOVE the BOD lists. So the real head of the organization is always the one who says they work 40 hours a week and have a real "reportable compensation" . In this case, it is the founder/ chair, Michele Fried, who is married to the treasure, Chuck Fried. I am also very intrigued by the HONORABLE (as in DC Family court judge)  Alec Haniford Deull also serving on the board. Anyway, Michele brings in $168.947.00 in 2011. That is a pretty sweet salary if you ask me! But she is very busy. Now really, I ONLY choose to look at this one 990 for an example of what to look at, but I couldn't help to see a bit more. So here's what the site says about how Michele earns her big bucks:
"Founder and CEO of Adoption STAR. Her foremost responsibilities are the implementation of strategic plans and agency growth/expansion, financial management, board partnerships and supervision of the staff. Michele has her hands full with these responsibilities as well as initiating marketing and public relation campaigns and executing and implementing policies developed by the Board of Directors."
Now, also worth a look at is this section that breaks down the revenues.
Please note  $99,219.00 in GOVERNMENT GRANTS. It is pretty safe to assume that we are talking about moneys that originated at one time as taxes. As in you paid that and it paid about half of Michele's salary, but only half! Meanwhile, remember they do NOT pay taxes on what they make at Adoption STAR as profits, though the employees DO get taxed on what they make.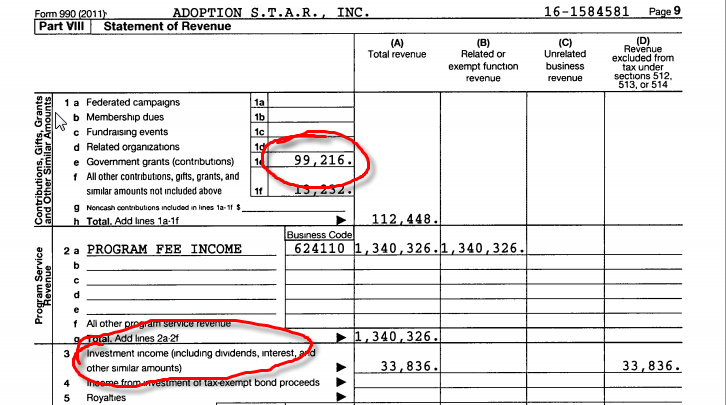 And they have investment incomes.  I don't, do you??
How an Adoption Agency Spends its Money
Part nine of 990's are one of my favorites. It can really show so much about an adoption agency and what they invest in as far as a business and their priorities!
Remember those 15 people that were employees at Adoption STAR?  And how we gave them a yearly salary of about 37K with benefits and all? Well, now we know that we have to break out Michele's hearty piece of the pie, so really we only have $339,413.00 to share between them. Guess how much they make. The social workers, the clinical case managers?  Less than 25K a year.  Michele makes almost 7 times the amount of money of her staff. They spend twice as much as one annual salary in travel.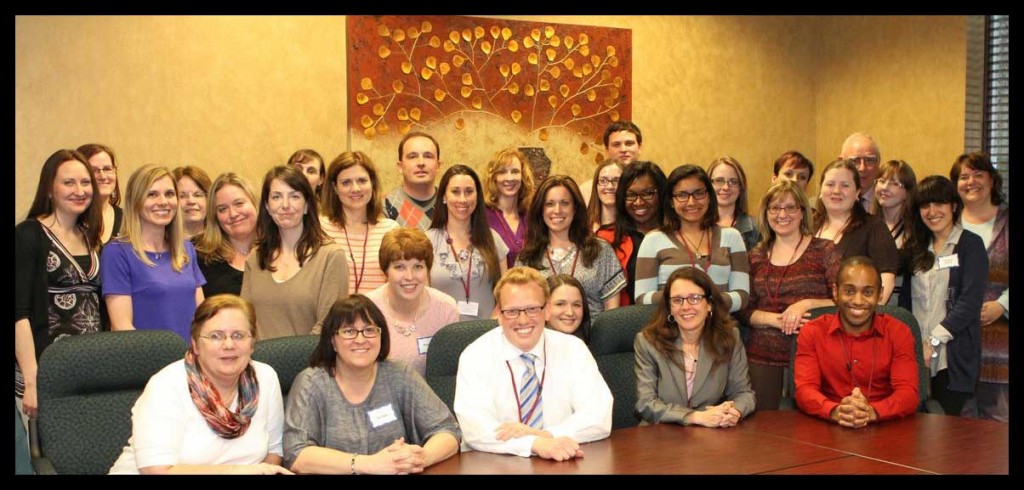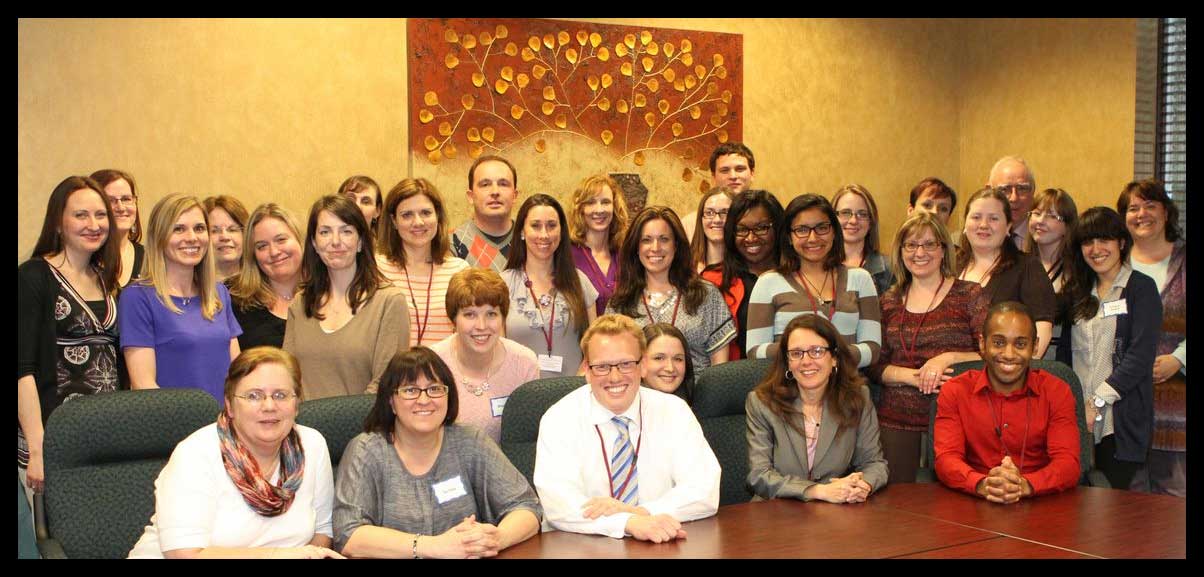 Also one MUST note the "advertising" expenses which also should be grouped in with "information technology"  aka the websites, and printing, as well. There's over $200,000.00 in those buckets.   Let's also think here for a second about what we know about how adoption agencies work. Yes, they do A LOT of printing. They have to make all those beautiful "parent profiles" and I bet they do spend a ton in ink and pretty bindings. But I bet they go ahead and charge the "waiting parents" for those printing fees as well, yet the same printing is listed as an "expense" which comes off their profits, which they don't pay taxes on anyway. Double dipping?
But the social workers and counselors are making 25K. Wouldn't we think that the "real" work is the hands on working with the adoptive parents and the poor expectant parents? Isn't that level of professional care what makes an adoption agency a beneficial "good for society" type of place? Isn't THAT worth a bit more money??? Or are they paying straight out of college beat down salaries?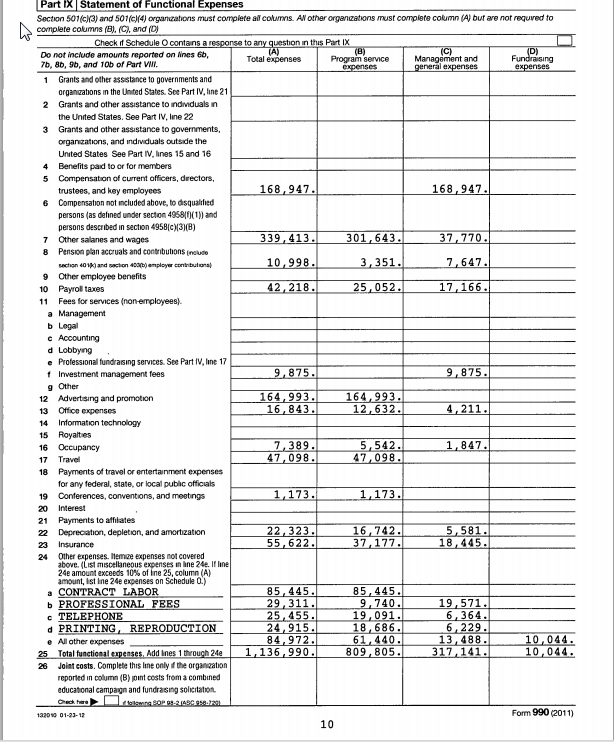 I do wonder what the $84, 972.00 in "other" expenses is!
Over 1.3 Million in Investment Funds
Now please look at the assets, and in particular, I wanted to break down and make note of this: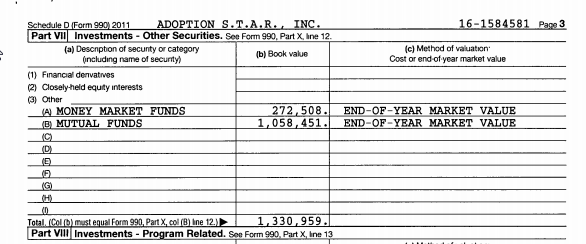 Money markets and mutual funds? Can anyone please explain to me what a nonprofit adoption agency needs mutual funds for? Like why are they putting money in there? Why do they even have money in there?  Am I wrong to think that at a certain point Michele and her hubbie might dissolve the "work" part of this "agency" and live off the profits for a nice comfy retirement? I know I am guessing, but wow.
Read the Financials for the Adoption Agency Nonprofits
So that's what I look at when I read an adoption agencies nonprofit 990 IRS return. Some have more details on them and some have less. But if you read as much into it as you can and do a little math, it's really plain to see that somehow it's not all about helping poor homeless babies. Please feel free to peruse this list and do your own examination of other adoption agencies.
You can also go to the source site here http://nccsdataweb.urban.org/PubApps/search.php  and look up more. The code for adoption agencies in particular is P02.02 – Adoption. Again, if you click on the agency name, you will get access to all the 990's on file. If you click on the 990 link, you see the most recent year.
Have fun and you happen to desire to break down any like I have for Adoption STAR, please send me over you findings and I will be thrilled to publish it with full credit to you of course!
And please, do NOT tell me ever again that a nonprofit adoption agency is not in it for the money. And if anyone does tell you that, feel free to link them here!
Oh,  and the total revenues listed for the non profits just here? $266,471,066.00 and their assets for just these non profit adoption agencies another $201,870,454.00 and because I just love grand totals:
Four Hundred sixty eight million, three hundred forty one thousand, five hundred and twenty dollars in revenue and assets in non profit adoption agencies for this list alone!!! May I just remind you this is NOT NEARLY ALL THE ADOPTION AGENCIES WHO ARE NON PROFIT!
| | | | | |
| --- | --- | --- | --- | --- |
| Name | State | Total Revenue | Total Assets | 990 Image |
| A Bond of Love Adoption Agency Inc | FL | 384,157 | 134,318 | 990 |
| A Lifetime Adoption Foundation | CA | 0 | 58,696 | 990 |
| Aaa Friends in Adoption Inc Fia Friends in Adoption | VT | 1,054,672 | 371,242 | 990 |
| Aaa Partners in Adoption Inc | GA | 635,651 | 53,192 | 990 |
| Aac Adoption and Family Network Inc | CO | 791,826 | 1,066,473 | 990 |
| Aba Adoption Services Inc | FL | 17,060 | 20,098 | |
| Academy of California Adoption Lawyers | CA | 38,225 | 25,925 | 990 |
| Adoption Advocates Inc | FL | 830,023 | 1,015,185 | 990 |
| Adoption Advocates Inc | TX | 678,169 | 50,273 | 990 |
| Adoption Advocates International | WA | 2,818,767 | 695,370 | 990 |
| Adoption Alliance | TX | 633,225 | 731,100 | 990 |
| Adoption Alliance | CO | 603,552 | 117,498 | 990 |
| Adoption and Foster Care Mentoring Inc | MA | 652,329 | 528,878 | 990 |
| Adoption and Foster Care Specialist Inc | MI | 838,771 | 419,944 | 990 |
| Adoption Associates Inc | MI | 2,990,789 | 2,004,636 | 990 |
| Adoption at Adoption Circle Inc | OH | 983,099 | 372,037 | 990 |
| Adoption Avenues | OR | 883,345 | 218,542 | 990 |
| Adoption Center for Family Building | IL | 619,977 | 200,027 | 990 |
| Adoption Center of San Diego | CA | 246,312 | 251,024 | 990 |
| Adoption Choices Inc Adoption Choices of Colorado | CO | 862,651 | 364,141 | 990 |
| Adoption Connection PA | PA | 612,712 | 287,780 | 990 |
| Adoption Covenant | TX | 805,696 | 141,749 | 990 |
| Adoption Exchange Association Inc | MD | 4,263,891 | 709,102 | 990 |
| Adoption Guild of Southern Orange County | CA | 73,922 | 8,877 | 990 |
| Adoption Guild Valencia Valley | CA | 0 | 0 | |
| Adoption Horizons | CA | 71,905 | 30,200 | 990 |
| Adoption Information Center | CA | 94,521 | 54,455 | 990 |
| Adoption Learning Connection Inc | FL | 0 | 0 | 990 |
| Adoption Ministry of Youth With A Mission | WA | 827,564 | 366,158 | 990 |
| Adoption Options | CO | 541,242 | 443,420 | 990 |
| Adoption Options Inc | CA | 448,442 | 210,754 | 990 |
| Adoption Priorities Inc | TX | 583,757 | 470,482 | 990 |
| Adoption Related Services of Pinellas Inc | FL | 599,230 | 62,409 | 990 |
| Adoption Resource Center Adoption A R C | PA | 1,170,029 | 296,970 | 990 |
| Adoption Resources of Wisconsin Inc | WI | 1,344,427 | 606,271 | 990 |
| Adoption Rhode Island | RI | 1,090,743 | 654,682 | 990 |
| Adoption S T A R Inc | NY | 1,487,094 | 2,402,163 | 990 |
| Adoption Services Associates | TX | 1,230,957 | 553,971 | 990 |
| Adoption Support and Consultationservices of Florida Incorporated | FL | 38,713 | 3,841 | 990 |
| Agape Adoption Agency of Arizona Inc | AZ | 566,644 | 185,015 | 990 |
| Aid To Adoption of Special Kids Aask Arizona | AZ | 8,059,413 | 14,107,634 | 990 |
| Amara Parenting and Adoption Services | WA | 1,573,679 | 958,404 | 990 |
| America World Adoption Association | VA | 6,992,235 | 3,956,740 | 990 |
| America World Adoption Association Group Return | VA | 6,359,278 | 3,875,039 | 990 |
| Americans for International Aid and Adoption | MI | 1,551,071 | 564,685 | 990 |
| Anaheim Adoption Committee | CA | 60,001 | 8,846 | 990 |
| Associated Services for International Adoption Asia | OR | 860,535 | 237,986 | 990 |
| Bay Area Adoption Services | CA | 630,583 | 718,488 | 990 |
| Beacon House Adoption Services Inc | FL | 932,891 | 24,432 | 990 |
| Bethany Christian Services Inc | MI | 13,702,248 | 31,594,714 | 990 |
| Bethany Christian Services Inc Group Return | MI | 74,717,810 | 17,476,814 | 990 |
| Bethany Christian Services North Carolina | MI | 1,299,446 | 1,046,330 | 990 |
| Bethany Christian Services Northwest Iowa | MI | 1,194,278 | 463,601 | 990 |
| Bethany Christian Services West Tennessee | MI | 602,970 | 190,047 | 990 |
| Black Adoption Placement and Research Center | CA | 658,011 | 120,397 | 990 |
| Buckner Adoption and Maternity Services Inc | TX | 791,220 | 337,460 | 990 |
| California Association of Adoption Agencies | CA | 0 | 0 | 990 |
| Carolina Adoption Services Inc | NC | 1,039,530 | 823,203 | 990 |
| Catholic Charities Counseling and Adoption Services Inc | PA | 2,746,347 | 1,110,164 | 990 |
| Ccai dba Chinese Children Adoption Intl | CO | 3,932,907 | 24,097,648 | 990 |
| Center for Adoption Support and Education Inc C A S E | MD | 1,997,912 | 761,507 | 990 |
| China Adoption With Love Inc | MA | 674,355 | 5,710,937 | 990 |
| Christian Adoption Services Inc | NC | 1,290,442 | 744,065 | 990 |
| Christian World Adoption | NC | 2,964,964 | 427,045 | 990 |
| Common Sense Adoption Services | PA | 727,295 | 192,602 | 990 |
| Congressional Coalition on Adoption Institute | DC | 1,643,616 | 587,059 | 990 |
| Cradle of Hope Adoption Center Inc dba Adoptions By Cradle of Hope | MD | 1,155,884 | 1,396,858 | 990 |
| Cross Cultural Adoption and Foster Parent | CA | 0 | 0 | |
| Crossroads Christian Adoption Services Inc | CA | 36,503 | 47,274 | 990 |
| Dave Thomas Foundation for Adoption | OH | 13,472,413 | 14,387,267 | 990 |
| Destiny Adoption Services and Consulting Inc | FL | 48,349 | 4,499 | 990 |
| European Adoption Consultants Inc | OH | 4,126,665 | 1,203,272 | 990 |
| Evan B Donaldson Adoption Institute Inc | NY | 928,969 | 753,761 | 990 |
| Fairbanks Counseling and Adoption | AK | 1,332,371 | 336,212 | 990 |
| Family Adoption Consultants | MI | 717,468 | 51,129 | 990 |
| Family Builders By Adoption | CA | 2,631,761 | 1,193,807 | 990 |
| Florida Home Studies and Adoption Inc | FL | 100,874 | 97,887 | 990 |
| Frank Adoption Center | MD | 537,916 | 125,083 | 990 |
| Gentle Care Adoption Services Inc Adoption By Gentle Care | OH | 1,310,939 | 1,236,792 | 990 |
| Gift of Adoption Fund Inc | IL | 705,641 | 569,375 | 990 |
| Gift of Life Adoption Services MA Inc | FL | 0 | 0 | 990 |
| Gladney Center for Adoption | TX | 12,142,115 | 14,658,875 | 990 |
| Global Adoption Services Inc | MD | 1,677,515 | 675,842 | 990 |
| Gods Children International Adoption Agency | CA | 92,192 | 241,506 | 990 |
| Gods Grace Adoption Ministry Inc | CA | 118,460 | 232,982 | 990 |
| Grace International Adoption Agency | FL | 280,998 | 412,088 | 990 |
| Great Wall China Adoption Inc | TX | 4,481,098 | 17,552,249 | 990 |
| Heart of Adoption Alliance Inc | FL | 89,764 | 51,361 | 990 |
| Heritage Adoption Services | CA | 69,383 | 5,115 | 990 |
| Holy Family Services Adoption and Foster Care | CA | 921,506 | 146,882 | 990 |
| Home at Last Adoption Agency Inc | FL | 1,029,036 | 364,034 | 990 |
| Hope Adoption and Family Services International Inc | MN | 749,702 | 901,995 | 990 |
| Humboldt County Council on Adoptable Children Inc Post Adoption Services Project | CA | 126,300 | 115,345 | 990 |
| Independent Adoption Center | CA | 4,645,866 | 1,858,288 | 990 |
| Infant of Prague Adoption Service Inc | CA | 508,747 | 614,873 | 990 |
| Institute for Adoption Information | FL | 0 | 0 | |
| International Adoption Guides Inc | GA | 1,174,732 | 171,172 | 990 |
| Jewish Adoption and Foster Care Options Inc | FL | 4,734,820 | 540,872 | 990 |
| Jewish Adoption and Foster Care Options Inc | FL | 4,734,820 | 540,872 | 990 |
| Joint Council on International Childrens Services dba Adoption International Jcics | VA | 743,979 | 182,828 | 990 |
| Journeys of the Heart Journeys of the Heart Adoption Srvs | OR | 1,632,203 | 542,641 | 990 |
| Life Adoption Services Inc | CA | 393,737 | 8,792 | 990 |
| Lutheran Adoption Services Inc | MI | 2,282,506 | 912,067 | 990 |
| Madison Adoption Associates Ltd | DE | 1,309,498 | 756,359 | 990 |
| Massachusetts Adoption Resource Exchange Inc | MA | 1,286,195 | 183,680 | 990 |
| Midwest Adoption Center Inc | IL | 954,573 | 546,496 | 990 |
| Midwest Foster Care and Adoption Association | MO | 736,123 | 229,346 | 990 |
| Minnesota Adoption Resource Network | MN | 1,154,328 | 128,996 | 990 |
| National Adoption Center Adoption Center | PA | 1,199,256 | 1,332,985 | 990 |
| National Council for Adoption Adoption National Council for | VA | 1,258,798 | 1,508,529 | 990 |
| National Embryo Adoption Center | TN | 1,037,378 | 47,624 | 990 |
| Northeast Ohio Adoption Services | OH | 859,737 | 184,159 | 990 |
| One World Adoption Services Inc | GA | 1,392,263 | 263,279 | 990 |
| Open Adoption and Family Services Inc | OR | 1,498,451 | 1,296,855 | 990 |
| Open Door Adoption Agency Inc | GA | 1,489,724 | 1,668,084 | 990 |
| Oxford Adoption Foundation Inc | FL | 0 | 510,191 | 990 |
| Parents Adoption Lifeline Inc | FL | 0 | 0 | |
| Partners for Adoption | CA | 469,885 | 101,976 | 990 |
| Post Adoption Center for Education and Research | CA | 0 | 0 | |
| Premier Adoption Agency | NV | 958,209 | 553,195 | 990 |
| Rescued Pet Adoption League R Pal | TX | 757,527 | 10,804 | 990 |
| Shepherd Care Ministries Inc Adoption By Shepherd Care | FL | 1,791,569 | 279,705 | 990 |
| Small World Adoption Foundation of Missouri Inc | MO | 625,402 | 75,641 | 990 |
| Student Adoption Network Development Foundation Inc Sand Foundation | CA | 36,011 | 14,919 | 990 |
| Sunshine State Adoption and Home Study Services | FL | 112,035 | 18,287 | 990 |
| The Adoption Exchange | CO | 4,519,762 | 1,663,790 | 990 |
| Three Rivers Adoption Council | PA | 1,757,092 | 793,505 | 990 |
| Wellspring Adoption Agency Inc | MN | 613,864 | 539,867 | 990 |
| Westminster Adoption Group and Services Inc | CA | 120,882 | 94,275 | 990 |
| You Gotta Believe the Older Child Adoption and Permanency Movement Y G B | NY | 1,380,146 | 611,267 | 990 |
Share on Facebook