Because it's much easier to Tweet a link.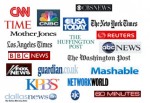 As a member of the media, I wanted to take a minute to ensure that you were aware of one of the last disenfranchised class of individuals that are denied their civil rights by law in the United States. Did you know there are over 6 million adult adoptees in the United States who are affected by outdated adoption legislation?
Adopted people are the only group of US citizens denied access to their Original Birth Certificate (the OBC).  It truly is a form of discrimination as the adoptee has no way of choosing the circumstances of their birth, relinquishment and adoption, but the circumstances of their birth is held against them long into adulthood. By law, they are treated like perpetual children.
This is one of the many areas of adoption legislation where the states have power over making the laws. In the US, 48 states continue the practice of sealing adopted children's original birth certificates upon finalization of the adoption.
As it is a state issue, there is a real patchwork of varied laws regarding OBC access Alaska and Kansas never sealed the OBC. New Hampshire, Oregon, Maine, and Alabama have changed legislation to allow adoptees access to their OBC upon age 18. Rhode Island lets the adoptee have access at age 25. Other states, such as Illinois, allow access at age 18, if the birthparents allow it which is insane considering that birthparents have long given up any rights to the said "child". Still other states, such as Ohio and Massachusetts, allow some adoptees to have their legal documentation while other adoptees are denied based on arbitrary years of their birth.
Normally, I would stick to the point that our American adoptees must be treated equally as a matter of civil rights; which is a recognized right of all children according to the UN Convention on the Rights of a Child (articles 7 to 10 specifically) and the government has no business legislating to whom adults can have or not have a relationship with.
But I would like to point out another side affect of this cruel treatment.
Due to the basic human desire to know one's true history and understand one's roots, our US adoptees must find ways around the antiquated laws to find their families.  Adoptees and birth families have always searched for and found their families, though many searches have been known to take decades. The rise in social media has provide a new tool that allows lost family members to make the connections they so long for. The Evan D. Donaldson Adoption Institute recently issued a new report regarding the influence of the internet on adoption and there have been many previous stories regarding families coming together using the web. I, myself, located my relinquished son back in 2005 on MySpace.
As of late, the newest tactic is to create a picture with one search/ birth information and through the adoption and social media communities, they get spread and hopefully go viral.
Perhaps you have seen the rash of news articles regarding adoptees turning to social media to find their families?
These stories are not isolated. Various members of the adoption community have created vast clearing houses of these images on the many social media sites form Facebook, to Pinterest, to Tumbler where they are tweeted, shared, and hopefully, maybe, find their way to the one person who could provide clues about their origins. We tirelessly share and promote our fellow Adoptionland members and pray that they find those whom they seek.  There are over a hundred images like this with the numbers growing daily.
You can find them on these various sites:
And then, there AdopteePhoto.com. Yes, this is how we roll in the adoption community. We create sites, videos, pages, etc all  to help others with their searches because the laws refuse to help us!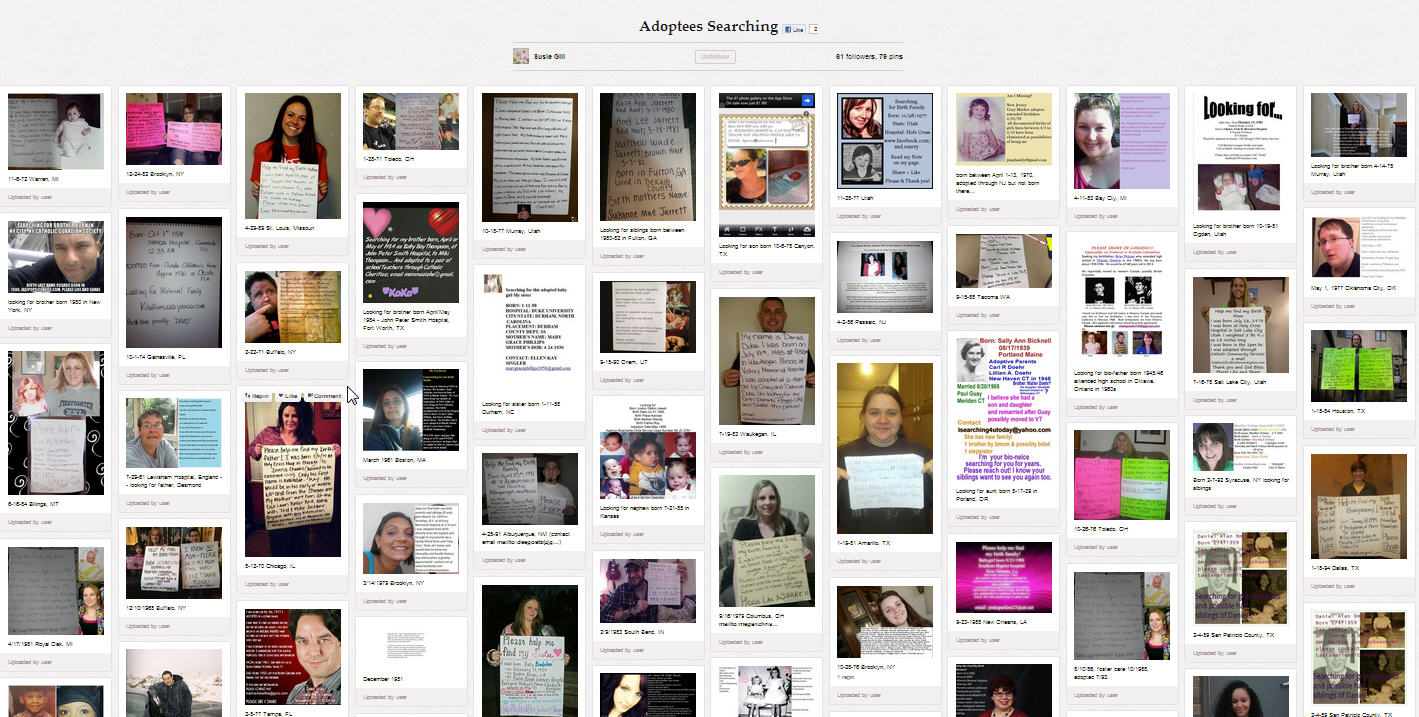 Sealed Adoption Records reduces people to this level. They have to beg for help from strangers on social media just to find their families.
While sharing one image 7,000 times might help that one person, there are over 6 million others that will fill that place. The only way we can really help ALL Adoptees have a right to find their families if they choose to is to allow them to have access to the original birth certificates.
As a member of the Board of Directors of the Adoptee Rights Coalition, I would love to entice you to call some attention to the need for Adoptee Rights Laws in this country. There are bills in New York, Ohio, Washington State, Missouri, Maryland, & Pennsylvania that would finally restore the civil rights of adult adoptees, but they need attention and support. The Adoptee Rights Coalition will have their 6th annual Demonstration on August 12th, 2013 at the National Council for State Legislators annual summit in Atlanta.
Please consider helping the fight of adoptees for their identity.
Thank you,
In truth,
Claudia Corrigan D'Arcy
Share on Facebook