Why is Troy Dunn so Dumb?
Troy Dunn, also known as "Troy, THE Locator," claims to have  assisted more than 40,000 people to find long-lost relatives or loved ones per Wiki.  In case you have been living under a rock don't have a TV, Troy Dunn is the executive producer and star of the TV show, "The Locator" for five seasons on WE TV. "The Locator" was the highest rated show in WE TV network history.
Now it is important to know that Troy Dunn is NOT an adoptee. His mother is. Supposedly, in 1990, he started on his journey to be THE Locator by helping his own mother, Katie Dunn, find her birthmother. That was his first search. The story goes that it was not a joyful  adoption reunion, but inspired him to focus the attentions of his PI agency "Troy The Locator",  a Licensed Private Investigative agency (A 1000115), to focus on "reuniting half the world with the other half".
I shouldn't have any issue with Troy based on this! And I don't.
Is Troy Dunn Profiting Off of Adoption?
I don't even have a problem with the fact that he sold his business to Ancestry.com for, I am sure,  I can't find it, undisclosed amount of money. Apparently the whole slew of 1,800 paid searchers are now owned by Ancestry too. I'm Ok with Ancestry overall. They do have important services that help adoptees including their DNA testing. The popularity of Ancestry demonstrates that the need and desire to find one's personal family history and past is both normal and human, which supports adoption reunions, and hopefully, in a roundabout way, supports Adoptee Rights. Of course, I must add that I wish a big name place like Ancestry.com would really support Adoptee Rights with sponsorship, but hey, that's just my crazy scheming dreaming again.
I don't mind that he uses this fame to promote his "leadership training company" or his books.  According to the press, his search services are crazy reduced, form $1,500 to Ten bucks. He is trying to be THE data base of searching.
"The Instant People Locator is the brain child of Troy and was created using one of the most in-depth and accurate data files available anywhere. Unlike other online people finder searches, Troy's Instant People Locator does NOT rely on worthless white pages for its data but instead combines thousands of somewhat obscure record files into one massive data pool, which he then makes available to the public for more accurate Locate results."
I LOVE the word "brain child", but I digress.
I can't even hold it against Troy Dunn that he is a Mormon Bishop, though we KNOW how bad the LDS church is with adoption!  But, alas, Troy Dunn is a real dope.
Why Is Troy Dunn A Complete Douche?
In the past I kind of ignored, the debates about Troy Dunn. My thoughts, much like my feelings on ABC's Find My Family, was that anything that brings light to the beauty and human need of adoption reunions, that shows how birthmothers NEVER "get over it" and never "move on" is good and healthy and should be shown to the public to counteract the adoption mythology that hurts us.
However, I have changed my tune, based on this ignorant piece of drivel found on the "official" Troy the Locator Facebook page.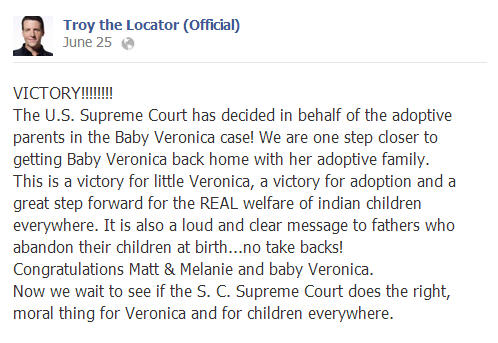 YES, Troy Dunn, the Supposed Master of Adoption Reunions, is Supporting an UNNECESSARY Adoption Separation
Really, Troy? Really? I cannot believe that you would take that stance after seeing how many adult adoptees and their natural parents spend years searching for each other….demonstrating the power and need for genetics to find their way home. I was hoping that this is just some horrible blunder made by an ignorant social media marketing company who doesn't know how disgusting it is to willingly separate a father and child, but no, he kept on making stupid comments supporting the wanna be adoptive parents, Matt and Melanie Capobianco, and putting down the RIGHT of Dusten Brown to continue to parent his daughter Veronica.
The SCOTUS Adoption Ruling  Is Not a Victory!
I'm not going to go off on this case right now, in part because I have already written about my feelings on the Baby Veronica Case and the use of the Indian Child Welfare Act.  As I said in the piece about Contest Adoption and Fathers Rights "Ripped Away Form the Only Home They Have Ever Known"  it shouldn't be about ICWA to begin with just like the Marriage Equality Act  Supreme Court Ruling should NOT be about gay adoptions!
It's just bullshit to think that that child should be anywhere other than with her father. What this is about is HOW COME TROY DUNN DOESN'T KNOW THAT?
How, I mean HOW, can he witness THOUSANDS of freaking reunions, filled with tears and hugs, how can he document these on television for all the world to see with an "estimated over 300 million people have personally witnessed one of Troy's reunions on national TV' and think it's OK to take this child away from her father, where she has been thriving and happy, and even THINK about returning her to people that she has NO GENETIC RELATIONSHIP WITH;  who have only shown SELFISHNESS, not love; and who TREAT HER like a possession to be "won".
I mean really.. W.T.F.
Are you trying to ensure that you stay in business? How can you NOT UNDERSTAND the pain and sorrow caused by adoption separations??
I Declare WAR on Troy Dunn
Ok, not that he really cares, but I shall NEVER say a somewhat good thing about Troy Dunn, his adoption search services, or "The Locator" shows again. In fact, if I ever hear anyone else in the world say a decent thing about Troy Dunn the Locator, I will denounce Troy the Locator  loudly and quite vocally for all to hear.
And I promise to be especially loud when I am in earshot of Adoption-land..and well, that's pretty much everyday.
Troy Dunn, you sir, are an ass. 
Share on Facebook