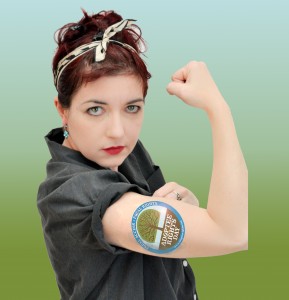 Professional Rabble Rouser and Online Activist
Claudia Corrigan D'Arcy has been online and involved in the adoption community since early in 2001. She originally began independently researching adoption issues in preparation of the successful search and reunion with her own son, Max, whom was placed for adoption in 1987.
Growing Online as a Birthmother
From humble beginnings on the now defunct Adoption Cafe and MSN Group Adoption Message boards, her knowledge of adoption and the internet grew together. From forums, to blogs, to the rise in social networking, Claudia has continued to see the internet as a powerful tool that allows isolated communities to find each other and, most importantly, find their voices and be heard. She has become a forerunner in the use of social networking for the online adoption community.
Musings of the Lame has become a much needed road map for many mothers who relinquished, adoptees who long to be heard, and adoptive parents who seek understanding.
Adoption to Corporations and Back to Adoption Again
Professionally, her work with the adoption community lead her to a career as a corporate blogger and SEO copywriter. Her writings have been published under many pen names.
She is the former the Director of Social Media at DragonSearch, an internet marketing firm in the Hudson Valley. In July 2012, she left this position to focus full time on the needs of the adoption community and launch her own consulting business with Adopting Social. This life change allows her to practice what she preaches to her clients; follow your passions, be real, and you never know where you might end up.
Indeed, the internet has opened many new doors to adventures for Claudia, both privately and professionally. Hence, why the ROI of social media is not something that can be measured.
The Journey Cannot Be Measured
Since becoming active, Claudia also initiated a search for her son adopted at birth. She later found and contacted Max directly through MySpace in 2005, long before Facebook became the adoption search tool of choice. After almost 2 years of contact, they met for the first time in March '07. All four of her children were reunited later the same year.
Besides here on Musings of the Lame, her writings on adoption issue have been published in The New York Times, BlogHer, Divine Caroline, Adoption Today Magazine, Adoption Constellation Magazine, Adopt-a-tude.com, Lost Mothers, Grown in my Heart, Adoption Voice Magazine, and many others. She is  a member of the Land of a Gazillion Adoptees team and serves on the board of directors of the Adoptee Rights Coalition.
She has been interviewed by Dan Rather, Montel Williams and appeared on Huffington Post regarding adoption as well as presented at various adoption conferences, other radio and print interviews over the years. Most recently, she authored a piece for The New York Times's parenting blog, becoming the first birthmother published on the Motherlode.
She resides in New York's Hudson Valley with her husband, Rye, children, and various pets.
 Read the latest posts from Claud below:
We make it out the double glass doors and I burst into hysterical tears. Not weeping, not crying, but gut wrenching hysterical deep soul crushing sobs. Rye looks at me shocked, I am beyond all logic. I make it about ten steps to the car, and then turn around….sobbing, tears flowing down my face, I am not sure what I said. It was like I had stepped on an emotional land mind and now all this shrapnel of myself was just flying.
I had no way of knowing it, but when I had to leave my "baby" cat behind and walk out that door without turning back..I hit that place that every relinquishing mother fears. It really was an emotional land mind that exploded when I walked out that door. I wasn't crying over the cat, it was over Max…two days old. It's no one's fault that this experience reenacted the worst trauma of my life, but it did. Just ripped that scab off with such a force, that it took me hours to find the place to stop the bleeding.