Yes, I Dare to Compare September 11th and Adoption
So it's the Saturday night before September 11th,  and that means that both Discovery and History channel are both loaded with new 9/11 specials. I, of course, must carefully line them all up, happy that they repeat themselves so I can watch them all in turn. I prepare to cry.
I can't help, but to once again, compare the feeling that arise upon the anniversary of Nine Eleven to the feelings of adoption.  And that's not me making a cheap comparison or just trying to bank in on a national tragedy. It's way more than the fact that I can assume that you can still feel the true horror that September 11th brought upon us all.  Maybe I am just denying the obvious, which is that both  are the same kind of loss and evoke great feelings of grief in me and I just process them the same way, but so strong are these emotions, this overwhelming sadness. Sometimes I don't know why I torture myself this way.Ritualized Loss, Accepting Grief
I handle adoption the same way. Always have. I ritualize the pain; focus on a book, a date, an evening of planned endless suffering. I know that it might sound odd or strange, but as I have written about before, even if I try to ignore it all, and be ok, it happens upon me anyway.  So you learn to take it as it comes. At least when you plan it, you kind of meet it head on. I welcome my grief, I guess. Pay it homage, for it deserves it.
I once wrote, what I remember as a good strong piece comparing this kind of continuous grief to a volcano.  It was on Anti-Adoption Insights and I never pulled a copy, so it's lost forever. Who knows, maybe it sucked. But in it, I compared living with adoption relinquishment to living on a volcano, it's always hot and simmering beneath the surface of your life. Sometimes it burns low, and sometimes, it burns hot. The pressure builds up, the earth shakes and when it blows, there is nothing but destruction. I think I did about 1000 words hammering that idea home. Maybe I was still rationalizing the typical adoption birthday depression, unlike now, where I know those dark days are normal for birthmothers. Maybe it's just a planned volcanic eruption and some false measure of control.  I don't really care why. For one, I know the grief in adoption is healthier if expressed and that alone warrants my attention.
And then, there is the simple fact that this is my child, my son, that I have lost and yes, to a parent of any kind, that's pretty much the worst horror. So yes, I have to honor this loss even if it is hard for others to understand my reasons.
I feel that about Nine Eleven.
Honoring the Loss
And that's why I will sit tonight, on the very of hysterics, knowing I will cry, for this day deserves it.
I hear the stories of the living, telling the stories of the dead. Can you see why I was seduced by visions of being a family building savior? I am drawn by these tales of heroics, of grace under pressure and insurmountable odds.  I listen and I cry because I have to honor these stories, their truths. I can hear the power in their telling and I know that they must be heard.
I watch as these human beings, they can't tell their stories without crying. As my TV flashes now oh so familiar scenes, I see the look in their eyes and I know it all too well. They way they talk about the snapshots that they remember and the visions still burned into their memories.  Even the poor unfortunate man at the airlines who checked in the terrorist's tickets, is still haunted, his voice still catches.  Even if they don't admit to it themselves, even if they are seemingly doing well, you know that each and every one of their lives have changed for even playing a small part of that single day.
I heard them say the same phrase I have said of adoption, what I have heard so many of us say:
"I'll never forget it. I'll never get over it. Not a day goes by, that I don't remember. It affects every single part of who I am today. I became a different person that day. "
Even to hear the survived speak of each other, and the connection that they now share due to this tragedy, they sound like us:
"I lost him, but we gained a this whole family", yes, so much like my only silver lining of adoption.
And again, I know how they feel  in many ways. As I know you do, too.
The Horror of Nine Eleven Shared
Eleven years ago, Rye and I watched that notorious day unfurl from this very same room that I sit now. Scarlett was an infant, Tristan not yet at all, Garin was Scarlett's age and Max not yet found. In many ways, a lifetime ago, but I can be back there at a moment's notice;  to me it feels like I can pull forth from my deep reserves, this pain. It's like unlocking a door, but that also means that it is always there, lurking, smoldering.  The same feelings brought on eleven years ago as I watched back then are immediately right here, beside me, with no loss of potency.
On September 11th, 2001, I had left for work early as I had to go to the bank first. It was there, waiting in line for the teller, that I heard that "something" had happened and it involved a plane and the World Trade Center.  I had wanted to get to the office before nine, but instead, I raced home and pulled Rye out of the bathroom, turning to the news.
We were here together, in this room, when the second plan hit and we cried out in unison.
I watch the papers flutter in the air again and the flames reach for the sky and remember how upset I was thinking about the people trapped above, in the fires, and how so many would die.
I remember thinking that they would never be able to put out those fires in those last few minutes, before it even got worse. They wouldn't have to put out the fires, as we now all know, because the buildings would fall down, but no one even could image that thought then.  It was just beyond possible thought.
The complete disbelief of watching the first of the Twin Towers fall, even thinking, then still innocent, but where did it go? That what I was seeing as Just. Not. Possible.
Through the  smoke of the first collapse, I was looking as the newscasters talked of another explosion and I was thinking, but I don't SEE the South Tower. As we never would again.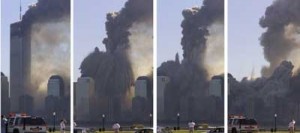 I remember, so vividly, now trying to work, to put together an interior design color scheme, but glued to the TV. I stood in the living room of the office and cried out again, when the North Tower fell. Now knowing the horror as that antenna sunk lower and lower in the ever widening clouds of dust.The Twin Towers could really have not fallen down.I could not have really given away my baby.
This isn't real. It can't be true. It didn't really happen, right?
With the same horror, my mind tells myself that both. are our sad reality.
And yeah, so I sit around at least once a year and cry.
I still miss the World Trade Center.
I still my son.
I believe I always will.
 ****
The terrorist September 11 attacks by Al-Qaeda resulted in almost 3,000 immediate (attack time) deaths, including the 19 hijackers and 2,977 victims.  The immediate deaths include 246 victims on the four planes, 2,606 in New York City in the World Trade Center and on the ground, and 125 at the Pentagon. About 292 people were killed at street level by burning debris and falling bodies of those who had jumped from the World Trade Center's windows. All the deaths in the attacks were civilians except for 55 military personnel killed at the Pentagon. Some immediate victims were not added to the list until years later. 

 We don't know the an accurate number of birthmothers separated from their children due to tactics used by the adoption industry because there is not one single agency or government oversight group that tracks these adoption statistics. The best numbers we have are from the 2006 Evan B. Donaldson Adoption Institute report, SAFEGUARDING THE RIGHTS AND WELL-BEING OF BIRTHPARENTS, which estimate that there are up to 15,000 voluntary infant adoption relinquishment each year currently. We know those numbers were much higher in the 50's, 60's and 70's. Conservative estimates say that there are 5 million to almost 7 million adoptees in the US and each one of them, has a mother. 
You can make a donation to the 911 Memorial Fund here.
Share on Facebook