Get Thee to Atlanta
I will admit I was petrified when I decided to quit my full time marketing job to dedicate my time to fighting for adoption truths on Musings of the Lame. I used to do really important things like blog about exciting sales of Barney's extras and top name discount designer brands too hot to mention on the racks at Loehmann's! This was one of the best fruits of my labor. The New York Times Fashion magazine, The Cut, used one of my favorite blog lines "Get Thee to Loehmann's!" Of course, no one knew it was my line, but me.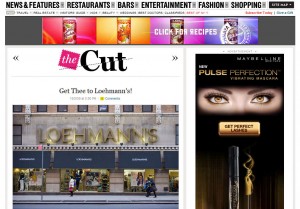 When the Personal ROI of Marketing Was Not Enough
Eventually, it was not enough. Leaving a "good job" was difficult to rationalize though my heart wanted it, my soul felt it needed it. In this economy, leaving a position that brought in about 40K a year felt kind of crazy (It was crazy and if anyone ever tries to tell me my face that I profit off of other people's misery in adoption, I might kick your face in) Yet,  I was sick at crying every week at my desk terribly unhappy being a corporate marketer. I had been growing ever more so over the past two years and found that there was not going to be an end to that growing unhappiness. I couldn't fix it by myself and the reality was that I was not going to feel good in that job again, but sit and rot along with my soul.
Plus, the voices in my head the universe was sending me all sorts of messages; telling me to follow my heart, to do the work that mattered, to trust and things would somehow be all right. I had a window of opportunity, and so with the support of Rye and my kids, I took it. I jumped.

For the last year, I have tried to make my online marketing and SEO skills as available as possible to those within the adoption community. I have also focused on helping others in my local community get professional marketing help without, what I saw, as inflated pricing. I was hopeful that I could freelance my services as an SEO / SMM consultant and be working for businesses that did good things… not for the sake of money and the bottom line, but for a greater good, not ROI. I wanted to practice what I preach and preach what I practiced. I said I would do this as long as I was able.
It's almost been a year and I have to say; something's not quite right. Too many promising proposals that never came though, too much pro bono work without a good financial foundation, a few times I did real work and never ended up getting paid. I might not be cut throat enough to be in business for myself. In the end, it has hurt my family and that is just not acceptable. I am all for MY sacrifices for a greater good, to follow my dream, but when it hurts my children, then we have issues.
I'm NOT giving up yet, but I CANNOT say to my kids, "No, we cannot go get ice cream because we don't have the money." Yet, I have. That's our reality right now.
The Cost for Running Musings of the Lame
Meanwhile I know that I had to pay my website hosting bill that would have bought them 4 trips to the ice cream store.  I'm not joking. Our family finances are really tight right now, not that we ever lived high off the hog, but at least I use to occasionally be able to buy shoes, at Marshall's mind you, but they were new. Now the Salvation Army is a treat. Don't get me wrong, it's a treat I enjoy because I am a thrifty bitch, but the stress gets old. I had serious anxiety attacks in the  middle of the night over the last hosting payment. I was really worried that I wouldn't be able to do it and I would lose this whole site. PANIC, I'm telling you, pure panic. I paid if for the minimum.. three months. So in three months more if something does not give, I get to have midnight panic attacks all over again.
This Year's Adoptee Rights Demonstration is at Risk
Meanwhile, the plan has been for the last year that my whole family would go to the 6th annual Adoptee Rights Coalition's national demonstration in Atlanta this year. I have tried to remain hopeful. I have put my faith in the universe that something would work out, but we are looking at a little more than month away and I finally had to say to Rye last week.. Atlanta isn't looking like reality.
He said: "But that's not for months away!"
I said: "Honey, July starts this week. We're like 6 weeks out. I don't think we can pull it off."
Sometimes I really do wish I was not always right.
The Plan; It Was Such a Good Plan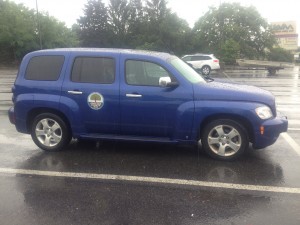 While the plan was to drive our car, the lovely Henri, known as the Adoptee Rights Mobile, down to Atlanta, the fact is that the four of us would have to have our own hotel room to share and feeding us all while we are there is going to be difficult. Granted when I go alone I can survive on coffee, water and one meal IF the hotel has a breakfast buffet where I can stock up on yogurts and bagels, but Rye and the kids are expensive to feed. I calculated the gas for Henri and he is expensive ( $300 in gas and tolls) to feed and there is not free breakfast. If we can do it on 2 grand, I keep my thrifty bitch crown.
But, aside of a miracle.. or one of four outstanding business proposals coming through in the next three weeks..we just do not have the money at all.
I feel horrible as the kids have been looking forward to this all year and even Rye was looking forward to seeing old Marine Boot Camp buddies in Georgia. Reality bites.
What About Just Me? Can I Really Miss an Adoptee Rights Demonstration?
I missed the first one in New Orleans because I couldn't get there. I was terrible sad and depressed the whole summer due to it. Every year, since 2008, I have made it somehow!
In 2009 I drove to Philly with, I kid you not, $89.00 in scrapped together change and a $15 Starbucks gift card. I stayed with friends for free at their house. They drove me all over and I avoided parking fees in the city. I took the long way there to avoid all tolls. Five days on less than $90.00 is pretty damn good. I'm not kidding when I say thrifty bitch.
In 2010, three of us drove to Louisville Ky and shared gas. I crashed in on a hotel room sofa (thank you Jeni, Gracie and Faith)  and worried about the pending paycheck that had to hit my bank account or I was going to lose weight for real. Of course, then I HAD a paycheck to wait for, now I do not. In the end, it worked out.
In 2011, it was San Antonio. I spent over 6 months waiting for the cheapest flight I could find. Again, I live on coffee, nicotine and very little food. That hotel was crazy cheap though quite posh, I thought. Again, I was on paid vacation and I was making decent money then, so my family at home took the hit and I did what was important; I lobbied for Adoptee Rights. Have I said how great my family is??
The Adoptee Rights Demonstration in 2012 was slightly different as Scarlett went with me so the costs were higher, BUT I had a nice settlement check that came in right before so we could relax a little bit. We drove, rather than flew to save money, and were broke upon our return, but to me the sacrifices are always worth it.
How to Make Atlanta a Reality
If I had something TO sacrifice this year, I would be doing it. Yes, we have even been trying to quit cut down on cigarettes. A lot. And it is a serious household sanity avert divorce or murder issue dedicated for Adoptee Rights. Still, it's not going to be enough.
I have compared the prices: 300 to drive, maybe 250 to fly, or 200 for either bus or train. The train is my cheapest and most logical bet. As I stay to lobby the booth and organize; I'm usually there the whole time: Saturday to the Thursday after the booth breakdown. That's 5 nights in the hotel, and even if I share,  at about $100 a night, it's going to be $300 or so for the whole time. And then, yes, I do have to buy coffee eat. I think I can manage it on $800. IF I had $800, but I do not. Nor do I have a clue where it's coming from in the next five weeks.
Cost of Adoptee Rights? Eight Four Cents a Mile
It's 953 miles to Atlanta and I'll need 84 cents a mile!  Are there ways to MAYBE cut it down a bit more? Maybe I can't stay the whole time this year 'till the end of the NSLC exhibit hall?  For every day less, it's maybe $60 to 75 less based on food and hotel.  Of course, that kind of sucks since, I have to say, I represent quite well. I got the conversations down pat. I make it my business to talk to these state representatives and senators and, well, they rather like me and listen. But I can compromise.. don't go at all or leave early? I'll leave early.. but, again that's proving I can get there. Which, now, I can't.
So why am I telling you?
Because everyone keeps asking me IF I am going. And for the last few months I have been saying "That 's the Plan!".. yup, vague, non committal, optimism because I was worried. And when I have to explain something more than once, I write a blog post because I am lazy smart and efficient like that.
Because I feel terrible with the thought of NOT going. I feel I have a responsibility to be there. I feel that I have browbeat people for years, saying things like "if you want to go, make it happen'  or " if it's important, you do what you must", and this time, I am having to eat my own words. You deserve an full explanation.
Because I feel that I will be letting people down who have expressed interest in meeting up in Atlanta. I feel badly at the thought of NOT representing whatever the hell it is that I represent. Hello, my name is Claud and I am a professional self-appointed birthmother poster child and adoptee rights cheerleader.
And because, I believe in 100% transparency and truth. And this is the truth, sad as it might be. I'm still hopeful and I have not given up yet, but after a year of not working and trying to do this unpaid work full time, I have started looking at the job boards again. I have brushed up my resume and then brushed up on my resume again. I have written a few cover letters for full time gigs that appear to not want to suck out my soul  look like good fits for my skills.
And because I want to give you a choice.
Sometimes the Hardest Thing to do is Ask for Help
I learned long ago that even if we do not want to ask for help, if we do not want people to help ever, we can be doing them a disservice. Sometimes it is a kindness to accept help when offered. It is not a sign of weakness to ask. It gives others the opportunity to do good and that makes them feel good to.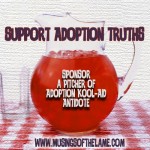 So, while I have a plan to hit up some choice business (:cough:cough: adoption agencies)  in my area for possible  put your money where your mouth is sponsorship; I shall trust in the universe yet again.  I have updated the MOTL Donating page a tad, and also added a sponsorship page. As I am really stuck on giving back too and offering something in return (and because I get corporate questions often enough now due to the rankings of the blog and I hate explaining over and over again) , I have created an advertising page with the costs of adoption ads and locations on MOTL. And because advertisers like to know this crap, I have an impressive "Reach and Influence" page as well.
If you know a rich uncle somebody who might be interested in such things, please feel free to pass them on. And if you know of ANYONE who needs help with search engine optimization or copy-writing or social media training or a Facebook page creation or a WordPress plus in install or a blog re-themeing, give them my name, please? And if you have anything good to say about me, could you do that annoying recommendation thing on my LinkedIn profile? It can be about adoption, that's OK, but recommendations look good for employment prospects, if it comes to that.
I'd rather earn my way to Atlanta, but I'll take help given.. if the universe says so, then it shall be.. so I'm just going to put that intention out there and keep the faith.
ETA: I have had some kind requests for a snail mail address:
168 Wall Street Kingston NY 12401
Share on Facebook