"Save Veronica Rose" From This Tangled Web of Lies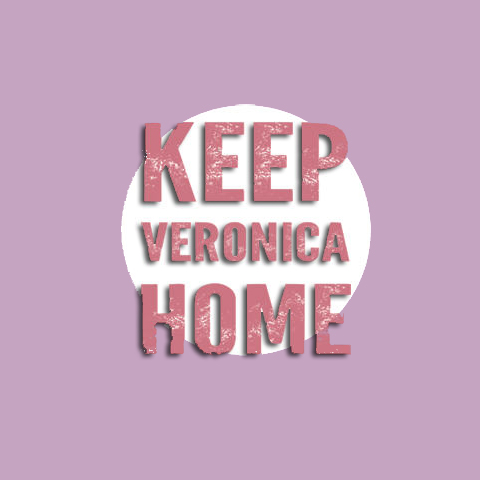 It doesn't matter really what you think about the Indian Child Welfare Act. It doesn't matter if you think ICWA is needed or unneeded.  It doesn't matter if you think the United States Supreme Court ruling to overturn the use of ICWA in the case of Adoptive Couple v. Baby Girl was right or wrong. I dare say that it doesn't matter if you think that Matt and Melanie Capobianco are the greatest people on the face of this earth or whether you believe that Haggard Mel has a DWI record and looks like she needs a serious "What not to Wear" Makeover. It doesn't matter if you think Christy Maldonado was a poor sympathetic woman trying to get a man out of her life or a lying snake trying to hurt her ex in the most vicious way she could find. It doesn't even matter if you think Dusten Brown is a decorated American soldier with a Bronze Star and father or if you still, despite the facts, believe him to be a dead beat dad.
There are two things that really matter in the media sensation that is the unethical adoption  of Veronica Rose Brown ;
One of them is a little girl named Veronica Rose Brown who will turn 4 in a few weeks and who is happy and loved and cared for by her family in Oklahoma and has no reason to be taken from them and "adopted" by another family
The other thing that really should matter is that this unethical adoption case has so much corruption in it that it literally reeks to high heaven.. and I am hoping that perhaps God will smell the sour stench and strike down those who have contributed to this injustice.
"Save Veronica Rose" Gets New Meaning
The wanna be adoptive parents, Matt and Melanie Capobianco, have taken up "save Veronica Rose" as their battle cry. I, like many others,  have always wondered what are we needing to "save" Veronica Brown from?  It's clearly not a case where she is in danger and adoption is needed to save her from abuse.  She doesn't NEED a home and really that is the issue to a degree, there are two  homes fighting over her. One created by biology and love, even if now dissipated, and one created by legal maneuvers and greed.   One created by nature and one created by the use of corruption, favors, money, and political connections.
What should matter is that we are living in a country where money and political corruption can create a situation where a child can be TAKEN from her family simply because another family WANTS her and has the means to do more than just abuse the system and the use the law to their advantage, but other people in power help them for their own monetary gains.  Oh, we might never see it, but there is money and favors changing hands here, folks. Don't even begin to think that there is not! The only reason that this case is still happening is because for ONCE  a natural parent had the means to fight this and Dusten Brown has not given up. The sad thing is that  fathers lose their children in this country every day to the adoption machine and they don't have ICWA and the Cherokee Nation on their side, so they give up and suffer for the rest of their lives.
More Corruption Played Out  in Court Transcripts
Ok let's take a five second dumb down review of simple facts so we can place in the time line what we are about to read;
Dusten and Christy got engaged in 12-2008 and the pregnancy was announced in January of 2009, but by May of 2009, Christy called the whole thing off, previously testifying because he wanted to get married and she didn't want to. She then cut him out of the picture entirely. Veronica was born in Sept of 2009. Dusten was "served" relinquishment papers on January 6, 2010, but immediately started legal proceeding to revoke his consent that was taken by trickery and without any legal representation. Lots of legal maneuverings back and forth until the South Carolina court trial on September 12–15, 2011 which is where this court testimony comes from.
This is the testimony of Alice Brown, Dusten Brown's mother and Veronica Rose Brown's paternal grandmother. She's the one who beaded all those tiny baby socks that we see all over the net. What I would like to point out that the Oklahoma visit, or "Home study" as it is referred to here, of the Guardian ad litem, or GAL, Jo Prowell in what seems to be July of 2011.
Why Was the Guardian ad Litem Already Biased for the Adoptive Parents?
By her own admission; because she had been working with the Capobiancos before the BIRTH of Veronica.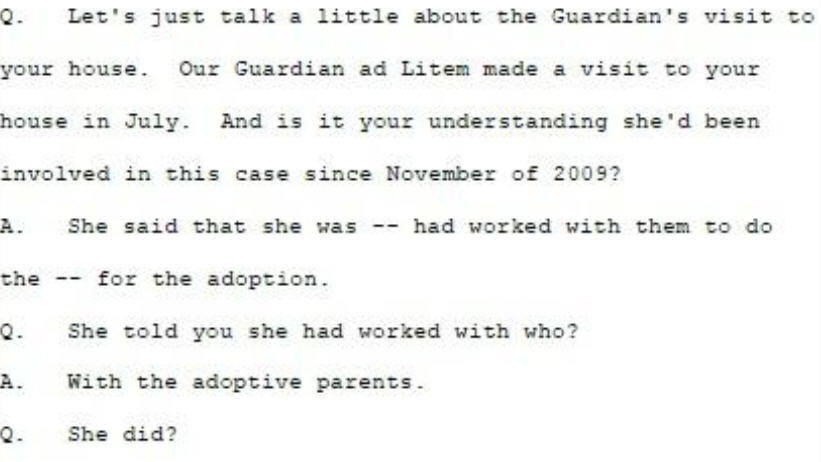 I'm so very curious on how a woman appointed to act in the best interests of a child, could do so before she is even born. Even the SOCTUS said the following about about her that really, if she had connections before,are untrue:
"The Guardian ad  Litem, Ms. Jo M. Prowell ("the Guardian"), is the  duly appointed representative of the respondent child  ("Baby Girl") in these proceedings, with standing to  file this brief on Baby Girl's behalf. The Guardian  exhaustively considered the respondent child's best  interests and concluded that they clearly would be  served by allowing her adoptive parents to retain  custody."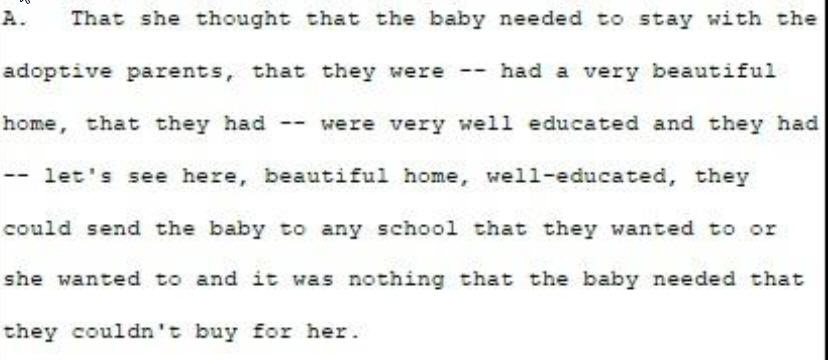 So, if you have a bigger house and more money, then perhaps you have the right to take anyone's kids from them. I mean, really, this is what we are saying if we allow the case of Veronica Rose Brown to not become a national outrage.  I don't see how this "advocate for veronica" did her job.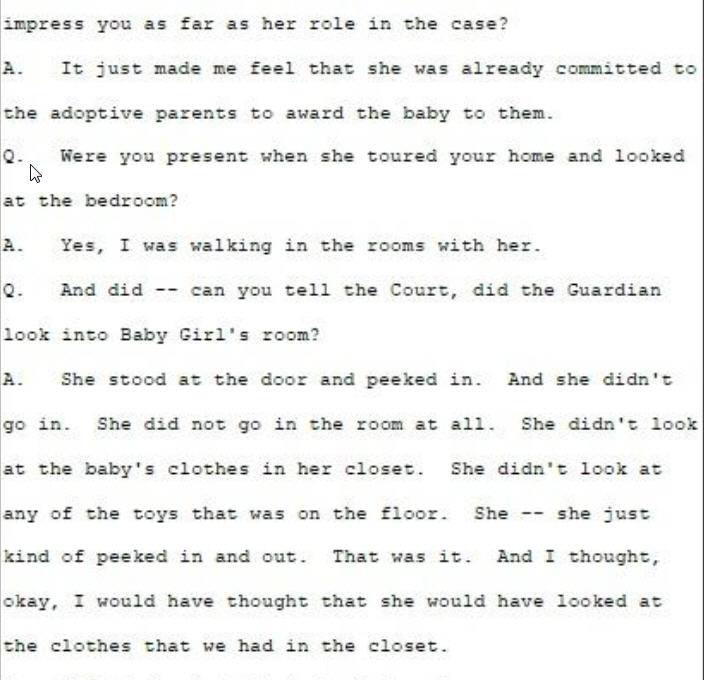 Why Would Jo Prowell Favor the Adoptive Parents?
" Did you get the sense that the Guardian was attempting to try to get you to change your mind or Dusten's mind about pursuing this litigation?"
"Yeah. She was — she worked very hard at that.  It was more talk of  -of that than really anything"
Jo Prowell, who is not a lawyer, has worked as guardian ad litem in numerous adoptions for attorney Raymond Godwin and Nightlight Christian Adoptions based in Greenville, South Carolina. In this capacity, she testified in favor of the Capobiancos at family court that Veronica should stay with Godwin's clients. There is also reporting that the same Jo Prowell, who by nature of her GAL status, should be ADVOCATING for the BEST INTERESTS of VERONICA, not anyone else, also went out of the way to obtain a favorable report on behalf of the Capobiancos, though withholding important information to the child and bonding expert who later recanted her report.
It's not just that THEY had more money and things, it's that Jo Prowell gets more money and things by doing what favors adoption. I betcha that Raymond Godwin and Nightlight Christian Adoptions keep her pretty busy!
But draw you own conclusions.  Here they are, all that I have today for you!
Adoptive Couple v Baby Girl 9-14-2001 Alice Brown direct testimony
---
Don't forget to read the other TRUTHS about the Baby Veronica Brown Case!

Standing Our Ground for Veronica Rose Brown
Native American Cherokee Citizen Veronica Rose Brown lives in Oklahoma with her father National Guardsman Dusten Brown. An unethical adoption is threatening separate this loved 4 year old child from her family due to legalities and adoptive parent entitlement.
Source: http://keepveronicahome.com/
The last time most of us heard about the heart-breaking Baby Veronica case was several weeks ago, when the child's Native American father gave up his years-long legal battle to retain custody of her, and her adoptive parents promised to maintain ties to her biological family.

Added by Andi Snyder on Dec 03, 2013

While I began this series to address the various issues of adoption, I have been asked to comment on the Veronica Brown case. To be blunt... I have been avoiding addressing it. Mostly because I break into a frothing rage when ever I just think about that case!

They Take His Child, Want to Throw Him in Jail and Now Bankrupt Dusten Brown Too? I'll just start out by saying if you are easily offended or have delicate sensibilities, then you might not want to keep reading.

Something has been bothering me lately about Ronnie (Veronica) Brown's adoption. It's making my head spin, so I've decided to write it down andmaybe someone can set me straight. We all know (well, those of us who use logic to assess situations) Ronnie was removed from Oklahoma under false pretenses.

I have been watching the "Baby Veronica" case for some time now. I have witnessed the reporting slants of various news outlets; the outrage of concerned citizens; the shock and grief of fellow adoptees; and the powerful replies of the First Nations.

I began composing this post a while ago and planned for it to be mainly a research-focused article highlighting the rights fathers do and do not have when it comes to their children being adopted out. Then the unfathomable happened: Dusten Brown was forced to relinquish his four-year-old daughter, Veronica, to the couple who have...

Added by Karen Pickell on Sep 27, 2013

INSTITUTE CALLS FOR GREATER PROTECTION OF BIRTH/FIRST PARENT RIGHTS For Use in Weekend/Monday Stories Relating to 'Baby Veronica' To arrange an interview or if you have questions, please contact the Adoption Institute's Executive Director, Adam Pertman, at 617-763-0134 or apertman@adoptioninstitute.org . NEW YORK, Sept.

As an adoption, Baby Girl vs Adoptive Couple reveals irregularities at best and complete disregard for law at worst. 1) Veronica was 3 days old residing in Oklahoma when the initial adoption paperwork was filed in South Carolina. 2) Dusten did NOT (as verified by court documentation) sign away his parental rights nor give his permission to place Veronica for adoption.

Dear Veronica, Whatever your adoptive parents have told you for the past sixteen years, I hope they have told you this: You were loved, cherished, and wanted by your father. I don't mean Matt Capobianco, even though you have grown up calling him "Daddy" and "Dad."

As I write this rumors are circulating that you have received physical custody of Baby Veronica. I say rumors because in all honesty, I am afraid to look to confirm it since even the thought that this is true makes me want to throw up.

I don't know if I can write this. If it is even worth it. If any of this is worth it anymore. We have failed a sweet, innocent little girl. Failed her in the worst of ways. And I say we for all of us. A society. A nation. Our media.

Yesterday, the OK courts lifted the temporary stay and the "prize" was returned to her rightful owners. After all they wanted her more, they paid more, they fought more, they had more purchased influence on their side, they lied more, they cheated more, they played a dirtier game from the beginning.

Please review the following resources related to the ongoing custody case for Veronica Brown. If you are just becoming aware of this issue, or if you would like an overview of the main points, please start with the Frequently Asked Questions. Frequently Asked Questions Tulsa World FAQ Case Overview Wikipedia Summary Fact Checks National Indian...

Often, if we compare statements one has made at different times, we are able to detect slight differences. We can see how one's story changes. We'd like to bring you for comparison, Birth Mother, Christy Maldonado's affidavit from the Oklahoma court case in Adoptive Couple vs. Baby Girl.

Sometimes, just a few sentences can say SO much . . . The above quote comes directly from Melanie Capobianco's testimony in the case Adoptive Couple vs Baby Veronica.

I just signed a petition to Niki Haley, Governor of South Carolina, The Oklahoma State House, The Oklahoma State Senate, Governor Mary Fallin, and President Barack Obama: Governor Mary Fallin is helping deny the US Constitution's 14th Amendment Right of Due Process in the adoption case of Oklahoma's "Baby Veronica".

I had a conversation through Facebook a little over a week ago with Doreen Bain, Noah Medeiros's mom and Hope's grandmother. I wrote about their plight to get their daughter and granddaughter returned to them in my last post here.

Perhaps there is a light at the end of this long tunnel for Dusten Brown and his daughter "Baby Veronica" (who will be four next Sunday) that would allow them to stay together as father and daughter.

By drip and drabs, we might one day see the full story of the unethical adoption seizure of Veronica Rose Brown. Just to recap, currently we have the court transcripts from the September 2010 South Carolina Court trial of A doptive Couple vs Baby Girl: Today we'll be adding: Now of course there are some little tidbits that I do feel the need to point out.

One-Sided Truths and Playing Dirty Well, I guess that the Capobianco Camp didn't like seeing the court transcripts of Christy Maldonado and Veronica Rose's grandmother Alice Brown coming out because somehow half the truth is now making the rounds.

A short time ago, an Oklahoma judge ordered the Sequoyah County Sheriff's Department to release Brown from jail. As it stands now, Dusten Brown will return to court on Oct. 3 to learn whether he will be sent to South Carolina to be tried for the crime of custodial interference, namely that he had failed to turn over Baby Veronica to the Capobiancos.

"Save Veronica Rose" From This Tangled Web of Lies It doesn't matter really what you think about the Indian Child Welfare Act. It doesn't matter if you think ICWA is needed or unneeded. It doesn't matter if you think the United States Supreme Court ruling to overturn the use of ICWA in the case of Adoptive Couple v.

Maybe we'll make this a regular feature or maybe we won't but either way, if you hear something out there and want to know if it's true or not, you can certainly comment and we'll do our best to prove or disprove the rumors. Today however, there seems to be a fact sheet floating around...

The Judge said: "I do not find ( Chrissy Maldonado) birth mother's testimony credible that birth father ( Dusten Brown) did not want to pay child support for this child.( Veronica Rose Brown)" therefore, making Dusten Brown most certainly NOT a Deadbeat Father in any way at all.
Share on Facebook