Contract Law is Too Stringent for Babies and Minors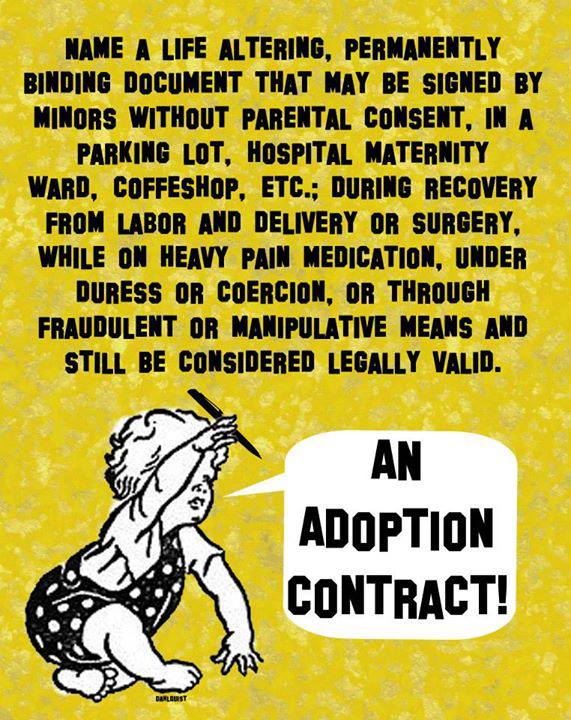 Question: Can you name a life altering, permanently binding document that:
may be signed by minor without parental consent
may be signed in a parking lot
may be signed in a hospital maternity ward
may be signed in a coffee shop
may be signed during recovery from labor and delivery and surgery
may be signed while on heavy pain medication
may be signed under duress or coercion or though fraudulent or manipulative means
and still be considered legally valid?
Answer : An Adoption Contract
Claud's Notes: Adoption Relinquishment Consent- Not a Contract
Actually the word "contract" is not used in adoption legalese due to the nature of who can sign it.
See, minors are not allowed to enter a contract under contract law. And since many times women under the age of 18 are encouraged to relinquish their babies to adoption, an "adoption contract" would just not do. Rather than have two separate forms of valid relinquishment, an adoption relinquishment consent form is just that; an: adoption relinquishment consent form.
Hence, a minor child can, without their parents knowledge, relinquish their own child to adoption.
Old Enough to Relinquish, Not Old Enough to Abort
Which is pretty ironic consider that a 16-year-old in Nebraska was just deemed that she is not "sufficiently mature and well informed to decide on her own whether to have an abortion."  She is, however, apparently mature enough to bear the child instead and should she be pushed into adoption, could sign her motherhood away in a mere 48 hours after birth.  Though if the biological mother is under the age of nineteen, the affidavit may be executed by the agency or attorney representing the biological mother based upon information provided by the biological mother. There are no previsions in Nebraska law to revoke her consent to adoption.
Nebraska changed its abortion laws two years ago from requiring that parents of minors be informed to requiring written and notarized parental consent for an abortion. Exceptions may be made in cases of parental abuse, medical emergencies, or cases in which the minor is "sufficiently mature and well-informed" to decide whether to have an abortion. Yet, over the age of 14, it seems they are "mature" enough to  consent to adoption.
Crazy right?
Adoption and Abortion Laws; Contradictory Consent for Minors
If you are interested in reading more about the legal implications and contradictory laws regarding minors consent in abortion and adoption, I highly recommend Malinda L. Seymore's  2012 paper "16 and Pregnant: Minors' Consent to Abortion and Adoption" that was published in the Yale Journal of Law and Feminism. I have a lovely bound and well noted copy here on my desk, but you can download the full paper as well!
Share on Facebook