Adoption and Surrogacy; Asking the Hard Questions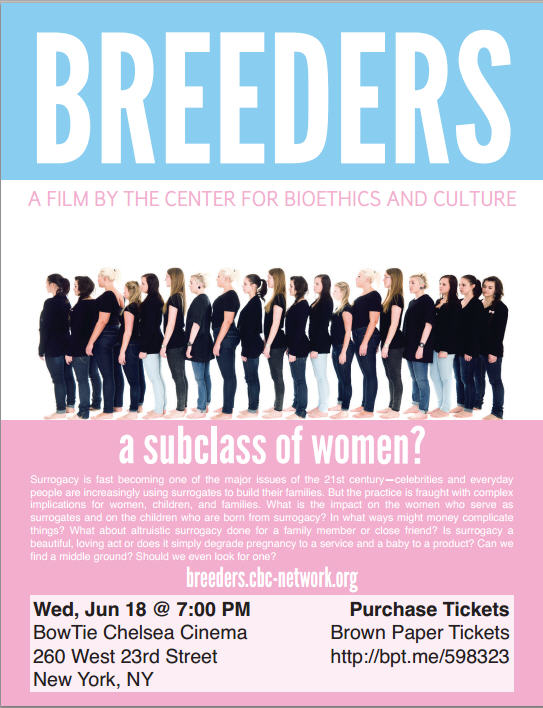 As I have long said that there is a strong correlation between what happens in surrogacy and what happens in adoption, so  a film like Breeders is very important. It is an  honest look at the risks of surrogate mothers and the commoditization of fertility and pregnancy, egg donations, and assisted reproductive technology in regard to human rights violations and women's empowerment. Surrogacy is making all the same mistakes that have been made in adoption and have not yet learned from the past decades of education and awareness because the two have been seen as separate, but it's really not very different.
About Breeders: A Subclass of Women?
Breeders Trailer (30 Sec) from CBC Network on Vimeo.
Surrogacy is fast becoming one of the major issues of the 21st century—celebrities and everyday people are increasingly using surrogates to build their families. We KNOW that many adoption attorneys are reporting that most of their income is shifting to surrogacy representation. But, like adoption, the practice is fraught with complex implications for women, children, and families. The film asks the hard questions: What is the impact on the women who serve as surrogates and on the children who are born from surrogacy? In what ways might money complicate things? What about altruistic surrogacy done for a family member or close friend? Is surrogacy a beautiful, loving act or does it simply degrade pregnancy to a service and a baby to a product? Can we find a middle ground? Should we even look for one?
Announcing New York and Washington DC Screenings of "Breeders"
The Manhattan screening of "Breeders: A Subclass of Women?" will be at the BowTie Chelsea Cinema at 260 West 23rd Street, New York, NY at 7:00 p.m. To Purchase Tickets please go to:  http://bit.ly/1kQ17MP
I do hope that you will consider joining me in NYC for the film screening! The film is at 7:00 pm and it would be great to meet up before hand. I have already seen it as I reviews/ endorsed early on so I can tell you that it is VERY well done, though expect to be triggered.
The Washington, D.C., screening of "Breeders: A Subclass of Women?" will be at the Landmark Theater's Theater #4 at 555 11th St. NW in Washington, D.C. at 7:00 p.m.  To Purchase Tickets, please go to http://bit.ly/RhV6hR. And RSVP on the FB Event!
Tickets are only  $10.00 ($11.34 w/service fee).
If you can't make it to NYC or DC, there are other screenings across the US of Breeders and you could also host one! In addition, the DVD of Breeders is also available and can be purchased. Or you can get it on demand on Vimeo too! 
Order Breeders Below! Tell them Claud Sent you!
$16.99+S&H
DVDs are now shipping!

Third-Party Reproduction Trilogy
The Third-Party Reproduction Trilogy includes all three of our films on third-party reproduction: Eggsploitation, Anonymous Father's Day, and Breeders
$49.99+S&H

Bulk Orders: If you are interested in purchasing more than 25 DVDs, please contact us for a quote. info@cbc-network.org
Share on Facebook