What Happens to the Numbers of Adoptable Infants in the USA if We Compare to Australia?
I know we did this years back, but I can't find the numbers we crunched anymore. So I did it again since I keep on referencing figures that are covered in memory dust. I am a fan of facts.
Australia has long been known to be a model for adoption reform which is kind of amusing since they modeled their original adoption practices off of the USA. They both have their history in forced adoptions, genocide, eugenics, etc, and follow very similar patterns in  both the growth of domestic infant adoptions and population curves.
We do have two major differences between  the USA and Australia in Adoption and Culturally;
Australia, perhaps due to the media attention over the Stolen Generations, had the influence of adoption advocacy starting the mid 1970's. While the US has had people speaking out and desiring to overturn the secrecy of sealed adoption records being at that time frame as well, in Australia, the governments actually listened and change laws. Now I will admit that I get confused about the "states" in Aussie-land, but New South Wales opened their adoption records in  1976 and was followed by other states in the country.
Then most of the country took it a step further and  that resulted in a complete overhaul of the practice of adoption most specifically in regard to the act of relinquishment.
There are no private adoptions at all in the country, but rather the government oversees all adoptions.
There are no agencies or lawyer of adoption facilitators or other professionals who make a profit from the transaction of parental rights.
There is no pre birth matching or contact between the expectant parents and prospective adoptive parents.
There is no relinquishment before birth and birthparents have a full 30 days to revoke consent.
Both fathers and mothers are needed to consent
There is mandatory counseling and people are encouraged to parent.
I find it pretty clear to compare, say, a typical 'Thinking about Adoption" American Agency website versus an Australian state run "Parents Considering Adoption for your Child" website. By the way, this US agency I picked as I typed out one word "Pregnant" in Google and this was the first site that came up.
The other BIG difference between the US and Australia in terms of their adoption numbers is that Auz is much more of a socially conscious country. They honor the bonds between mothers and children and have social policy that supports parenting. For instance the Supporting Mothers Benefit was introduced in 1973. The Supporting Mothers Benefit which was increased to also include single fathers allows a mother to know that she has income to stay home and care for her child until that child reaches school age. It's kind of like what Welfare in this country SHOULD be, but I don't think that the Australians hate seeing other people live off their taxes quite as much as we do in the USA. They have socialized medical care there, too.
So before we get to number crunching, the differences are that in Australia there is no longer profit in adoption and mothers are encouraged to parent including having support provided by the country which recognizes the importance of child rearing, time to be mothers before they can relinquish and no emotional connections to the adoptive parents before they can make an informed choice.
What was the Outcome in Terms of Adoption Rates?
So much like the USA, adoption rates, specifically domestic infant relinquishments from unwed mothers, reached their peaks in 1970. I can't find a nice chart for the USA, but the number of adoptions by unrelated petitioners declined from a high of 89,200 in 1970 to 47,700 in 1975 which  would match the nice chart for Australia and document the decreases.
Now in the USA the decrease in the number of adoptions is usually contributed to the legalization of abortion in 1973 with Roe versus Wade. However, Australia had not criminalized the act and accepted abortion a bit earlier depending on the state. Both countries did see the same acceptance of single motherhood including divorce rates in the early 70's.
Number of adoptions in Australia from 1968-69 to 2010-11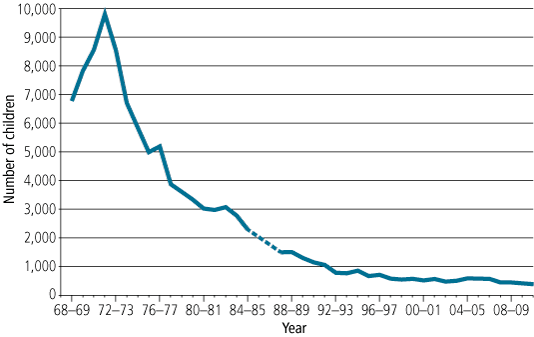 The numbers of Voluntary Domestic Infant Adoptions in Australia has obviously greatly decreased.  So time to compare. I went and dug up stats on numbers of Voluntary Domestic Infant Relinquishments in both countries for different time frames. I also researched the overall populations of the countries to account for natural growth numbers. As the USA has a much greater overall population than Australia, it is necessary to adjust the numbers to get an accurate representation and to be able to compare apples to apples.
Now there is not a corresponding government body in the USA that accurately counts the numbers of women who "choose adoption" but by best estimates the number has been a steady 14,000 to 15,000 annually. I also removed any references to international or foster or step parent adoptions, as we are only compare the practices and numbers for domestic voluntary infant relinquishment.
Overall Chart Comparing Relinquishment Numbers:
| | | | | |
| --- | --- | --- | --- | --- |
| | Australia | Australia | USA | USA |
| year | Population | Relinquished | Population | Relinquished |
| 1951 | | 3800 | | 33,800 |
| 1970 | 12,507,000 | | 205,052,000 | 89,200 |
| 1975 | 13,893,000 | 5000 | 215,973,000 | 47,700 |
| 2003 | 19,895,400 | | 290,107,900 | 14,000 |
| 2006 | 20,697,900 | | 298,379,900 | 14,000 |
| 2012 | 22,903,335 | 38 | 312,780,968 | 14,000 |
So what does this all mean? Let's do the math.  In 1951, the USA relinquished children at a rate 10 times the Australian numbers. Both countries peaked in 1970 and saw rates of relinquishment drop by approximately 50% by 1975. Numbers then drop lower and remain somewhat steady into the turn of the century.
Comparing Population Numbers:
So looking at 2012, there are over 22 million Aussie citizens compared to 312 million Americans.  I'm going to go for really simple math here and say that Australia has an overall population that is 7.05% of the USA population. So USA at 100% and Aussies at 7.05%.
Now if there 38 infants relinquished for adoption in Australia in 2012, (dividing the 38 by 7.05) based on the population percentage, every 1% of the population overall accounts for 5.39 infants relinquished. Based on a 100% population, then, the USA IF it had similar adoption practices and supported mothers would have 539 Voluntary Domestic Infant relinquishments annually give or take.
Want to do it again? Based on the 2006 numbers, we are looking at only 826 infants relinquished in the USA rather than the 14,000.
I don't even need my calculator to know that it means we are looking at aproximately 13,500 babies relinquished by mothers who, IF given accurate information regarding parenting and had options and support, would most likely NOT have placed their babies for adoption.
Now multiply that by the last ten years: that's over 135,000 families separated for no other reason than the fact that adoption is a huge profit driven business in the USA.
The USA Can Reduce the Rates of Relinquishment by over 90%
It can be done. We need to change the culture of adoption, how society views it and the allowable practices in the USA to date.  We know it works because we have whole countries to model it after. The question is.. do we want to?
The ramifications is that it will be much harder to find an infant to adopt. There is already a huge demand for available babies in adoption, and it would decrease that number by over 90%. That means  longer waits and the simple fact that people would have to, perhaps, remain childless or look to other means.  They might have no choice but to adopt from foster care, which one might think is a good idea since these are the children that really need homes.  Changing the domestic practices could very well also eliminate our child welfare issues. Wow, a real win-win in adoption!
Now of course, people will say "but what about the mothers who DO NOT want to parent?"
I say they don't have to. If the mythical "I don't want my baby" mother really wants to relinquish, she CAN!  We are not proposing to eradicate adoption completely, but rather ensuring that the known coercive and corruptive influences are removed from the process. This will simply ensure that every parent who does relinquish knows the real risks, has the ability to parent should they so desire, and is making a true informed choice.  Under adoption practices as modeled by Australia then every adoptive parent could rest easy and know that the adoption truly was ethically done and that their child really did need them to adopt them.  The added benefit is that the huge costs associated with adoption "fees" would also be greatly eliminated.
All good things, so really, you have to ask yourself why hasn't this happened already?
The answer is that there is too much money to be made in adoption and the profit keepers do not want to lose their cash cow.
Share on Facebook