Nightlight Adoption, Roger Godwin & South Carolina Selling Baby Desirai to  Child Abusers
What's wrong with this picture? Same story- same adoption agency, same two states, same lawyers involved, same laws broken but a different baby and, so far, a completely different reaction by the state governor's as well.
Yes, Baby Desirai could almost as easily be called Baby Veronica Part Deux. It's like a Hollywood sequel for the worst movie you have ever seen.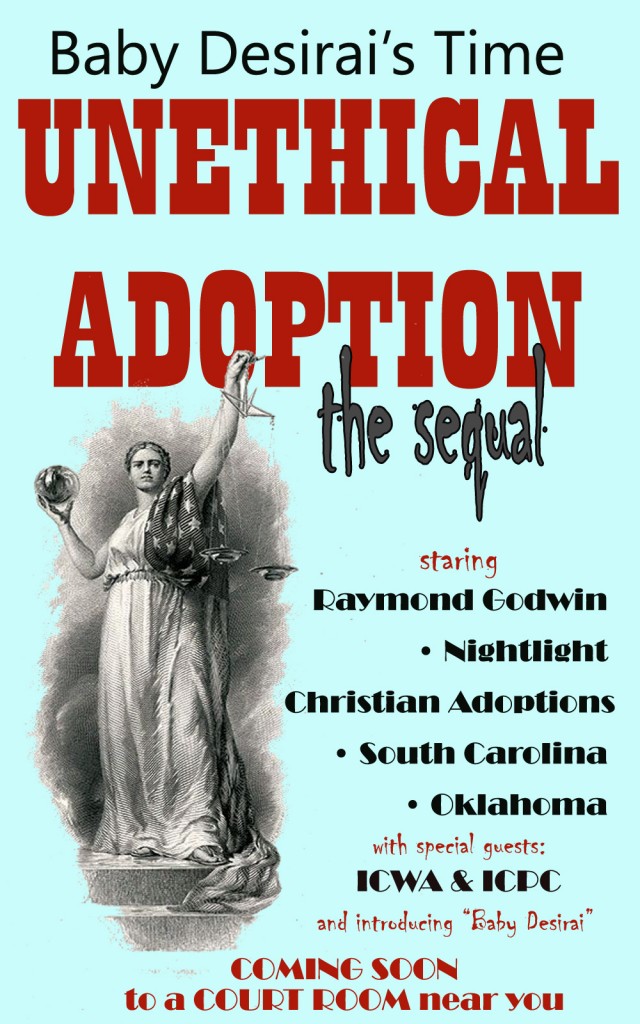 Cast of the Usual Suspects in Baby Desirai's Forced Adoption
Like any good sequel, we must keep continuous threads and themes so that viewers can feel comforted  that they are revisiting an old favorite.
Nightlight Christian Adoptions of Greenville, South Carolina is the adoption agency of record, again.
Raymond Godwin is the attorney for Nightlight Christian Adoptions of Greenville, South Carolina  where, if you recall, his wife,  Laura Godwin, is the agency director, again.
Attorney Paul Swain is also on the adoptive couple legal team, again.
South Carolina is the home state of the potential adoptive

kidnappers

non biological parents, again.
Oklahoma is the state of origin for the newborn baby girl, again.
Indian Children's  Welfare Act is the law in question that we invoke to try to retain a father's right to parent his own child , again.
Interstate Custody for the Placement of Children (ICPC) is the law in question that was ignored so that the non biological

kidnappers

wanna be parents of  the baby could get away back to the safety of South Carolina, again.
Introducing the NEW Players in the Desirai Adoption Corruption Scandle!
Now, with the adoption corruption "formula" in place, when we have to have new faces in key rolls. That keeps the story fresh!
Oklahoma Birthmother  Crystal Tarbox; who left the child's biological father late in her pregnancy and put her newborn child up for adoption without his consent or knowledge.
Screwed over rightful father, Jeremy Simmons, will play the underdog fighting the corrupt adoption industry for the right to parent own his daughter.
Bobby  & Diane Bixler, playing the now relinquished roll of Matt and Melanie Capabiano, as the poor prospective adoptive parents aching for a child to call their own.  The casting director might have overreached this time as Bobby is 64 and Diane is 60. Not only that but these characters seem a tad too old for the role of sympathetic would be parents, they also seemed to have managed to fly through the Vetting process. ( I know, adoption  vetting would seem to mean qualifications and that's just laughable.)
The Absentee Shawnee Tribe will represent the Native American's in this version of Adoption Corruption, the Sequel as opposed to the previous native Cherokee Nation.
And staring the duo role of human commodity baby tug o war .. introducing …Baby Desirai Simmons / Merry Rejoice Bixler!
Ok so the plot is kind of enough like what we already know, but with a few changed details that it still keeps you guessing. It seems to me that they might have had Rob Zombie working on the script as some of the visuals are a bit creepier than normal even for an Adoption Corruption story!
Diane Bixlers 20 Year Obsessive Horror Show!
Aside from already having raised 4 kids of their own which kind of takes away from some feelings of "poor deserving parent" sympathy,  Diane Bixler sounds like a obsessive nut job! One of their own biological raised sons is Josh Bixler who is a sergeant in the U.S. Marines Corps, married with four kids of his own at age 29, thinks his parents might not be the "best" pick for little Desirai.
He says Diane Bixler was "obsessed" with having another baby girl and forced her four own children to pray every single day for years:
"Lord Jesus, we pray it would be your will for our mom to have a baby girl"
Apparently Josh and another of his brothers are not supportive of the new role Mom and Dad are taking on and consider it to be well out of their range, even to the degree that they have attempted to sabotage their desires to adoptee a baby girl by reporting them as unfit bat shit crazy folks who should not be adopting to Children and Protective Services of South Carolina. The Bixler's do not have to worry about CPS, as this adoption, through Nightlight, is private.
"At 14, we got a new house and she put together a nursery and would go in there for hours and sit in the rocking chair, rocking back and forth with her eyes closed, praying. It was creepy."
Gotta Getta Baby Gotta Getta Gotcha Run!
The poor Bixlers began working with Godwin and Nightlight Christian Adoptions in Greenville, South Carolina about a year ago so Diane could fill that nursery. I guess 20 years of wanting was enough. Soon to be birthmother, Crystal Tarbox, had broken up with baby daddy, Jeremy Simmons, and somehow managed to hook up with the team in South Carolina. Not sure what the origins of that OK-SC baby pipeline connection is, but there is one!! Just this past May, the same coercive birth scene is played out in Crystal's home state of Oklahoma with Bobby and Diane on hand for the Desirai's hospital delivery. I wonder if Nightlight gives out frequent flyer miles or gas cards so their SC couples can get to OK in time for all "their" baby births?
Now here's where we get in to the  big "chase" scene!
Bobby "had to get back to work," and we KNOW that according to the Custody for the Placement of Children (ICPC) the potential adoptive parents seeking interstate children must have prior written authorization from the "home" state AND under the IWCA, a child of Native blood must be approved by the Tribe. Desirai's mother (oh plot twist! Bet you didn't see that coming) is Absentee-Shawnee, a federally recognized tribe based in Pottawatomie County so they would have had to approve as well! Oh no! That could get in the way of Diane's Dreams!!
So the Bixler's filed for Desirai's adoption in Oklahoma County, but then instead of filing for the ICPC and notifying the Absentee-Shawnee, they made a daring move!  They had their OK based attorney, Mike Yeksavich, ask Oklahoma County Judge Allen Welch to appoint HIM as the child's guardian in order to make the adoption be "no-fuss"? And surprise! Judge Welch did exactly what Okie Attorney asked so , without any paperwork or custodial orders in hand, the Bobby And Diane Bixler left Oklahoma and drove back to South Carolina!
Zoom Zoom Zoom!
Can you just image the tears of joy running down poor Diane's cheeks (and getting stuck in her face wrinkles) as she finally got to sit in her rocking chair and rock a real life baby girl!
"'Lord Jesus, I prayed it would be your will for me to buy this baby girl. Thank you Jesus for letting me escape Oklahoma with my child contraband"
Of course every good story needs conflict!
Hurry! Get That Baby Adopted in South Carolina!
So now, back in South Carolina, with possession of Baby Desirai, and neither father Jeremy nor the Absentee Shawnee Tribe any wiser, the Bixler's bring forth the adoption to be finalized in July! With only a 24 hour notice that the adoption was docketed given to both parties, there was a good chance that the adoption in super adoption friendly laws-what-laws we don't need no stinking laws state of South Carolina might have just gone ahead and said; "Yup, you brought her, you bought her", if not for a pesky Family Court Judge who noticed the missing Interstate Custody for the Placement of Children (ICPC) application from the state of Oklahoma and refused to finalize the adoption!
Zionks!
So now, with no ICPC and both father and ICWA stickler tribe alerted and without the protection of the South Carolina possession adoption degree, Charles Tripp who represents the Absentee-Shawnee tribe in this case is saying that the Bixlers
"… did not have a court order, guardianship order, or anything to remove the child from this state."
Some people might call that kidnapping! Zionks!
And the fight began!
In September, Oklahoma County judge granted the Absentee Shawnee tribe custodial rights to Desirai and ordered her return to Oklahoma.
Paul Swain, again, attorney for the Bixlers, claims the case was dismissed in late July and the OK judge's ruling isn't valid or something. He's a lawyer, so he knows when to call bullshit.
Of course, if this WAS a real Hollywood movie, Paul Swain could use his contacts as the chairman of Heritage Family Services' Board of Directors to miraculously "find" they mysterious ICPC application at the zero hour and save the day! See, Heritage Family Services is the Tulsa adoption agency  under contract with OK DHS to administer the ICPC. But of course, ignored or missing or incorrect ICPCs in the two adoption cases that he happens to be representing is just one of those weird coincidence things! Geepers!
Anyway! Now, a family court judge in South Carolina has scheduled a hearing on October 25 to finalize of the adoption of Baby Desirai and make all Bobby and Diane's dreams come true. I have heard that Bobby has been looking for a new belt for the occasion, but I am not too sure on how one state can just ignore the ruling of another state? I mean if that can happen, then why didn't Oklahoma just tell South Carolina to stuff it with Veronica??
No Spoilers!!  Can't Wait for the Next Episode!
So here's what I can't help but wondering.
If, with Veronica, South Carolina was so helpful to press charges on Dusten Brown for custodial interference when HE had Veronica and they insisted that OK honor their courts, then how come Oklahoma cannot return the favor and press changes on Bobby and Diane Bixler for custodial interference for the same reason? After all, failure to comply on the ICPC is grounds for criminal kidnapping charges, which is a federal felony in all 50 states. That's worse than "custodial interference" anyway!
How come South Carolina is not putting out bench warrants  to extradite the  Bixler's in respect to the Oklahoma ruling, when Oklahoma ordered the courts to extradite Brown to South Carolina after custodial interference charges were filed against him in the South Carolina Courts?
"I will tell you I completely feel for all the of the parents involved, but at some point you have to take the emotion out, and look at what the court said, and that is that she should come back home to her parents in South Carolina. We're going to continue to work with the parents and with Gov. Fallin to make sure that happens,"
said Nikki Haley abut Veronica….
So how come the South Carolina governor, Nikki Haley, isn't extended the same criteria when it comes to the Oklahoma court ruling last month that granted custody to the Absentee Shawnee Tribe, and ordered Desirai's return to that state?
"As governor, my job is to ensure the law is upheld."
Said Fallin about the Veronica case, so how come Oklahoma Governor Fallin isn't sending out US Marshall's in the South Carolina helicopters to bring Desirai home?
How come it doesn't work both ways??? How was Dusten Brown the criminal when the SC supreme court said he could parent his daughter and HE refused to give her back, but when the SC court SEES that these abusive ancient potential wanna be defacto grandparents in direct contravention of state and federal laws, basically kidnapping a child and moving her across state lines and REFUSE to give her back, there are no charges pending??
Yeah, the Unethical Adoption of Baby Veronica Rose Brown was a dramatic tragedy, but this baby Desirai case is looking like a pure horror story.  Really, this line is a real quote form Don Mason, attorney for dad, Jeremy:
"Honestly, I believe [convicted serial killer] John Wayne Gacy could walk into a South Carolina courtroom and adopt a child,"
Share on Facebook