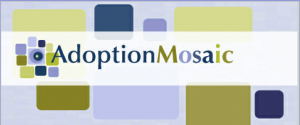 What's in a Word: Birthmother
I was asked to write a piece about why mothers who relinquished children to adoption might be upset by the use of the word birthmother by Adoption Mosaic. 700 words on a topic I know quite well, so I said no problem. And then I struggled. About 16 revisions later, and with the deadline looming, I sent off what I THOUGHT was my final version and headed to Texas for the Adoptee Rights Protest. I had sent version #12, but they liked it and I didn't HATE it, so that is what is printed in the 2011 Fall issue of Adoption Constellation magazine. I believe it's only the print copy!)
This was MY final version.
We are Told That I am a Birthmother
I did not choose this definition for myself. I was given, taught, introduced to this word by the adoption agency I had gone to. I went into adoption knowing I would come out as a birthmother, but I did not know the history of the word at all.
Years later, I found that the first known use of the word "birth" as a descriptive and identifiable adjective for a woman who has lost her child to adoption was attributed to Pearl S. Buck in 1956. It was not an wildly adopted term.
What the Adoption Agency Did Not Say about Being a Birthmother
The agency did not tell me how post Roe verses Wade the adoption industry was suffering. With changes to society and the acceptance of divorce and single parenting, no longer could religious institutions, maternity homes and gossip fearing parents ship away their pregnant daughters to shame them and remove the evidence of their illicit sex. The supply of babies was drying out and like most business, adoption turned to market research and rebranded. They interviewed women who had relinquished to find out what they didn't like about adoption and they picked brains to learn how to make adoption more appealing to pregnant woman. Then, they changed the business model. No longer could the adoption industry shame women into giving up their babies, now they had to convince us it was our idea and a very good one at that. That bit was not shared with me either.
By the time I relinquished in 1987, they had a decent well oiled machine in place and I "choose" adoption. The adoption experts were telling us that "birthmother" was a respectful word. I believed them because I trusted the adoption professionals. The question, I did not ask for many years was Birthmother is respectful to whom?
I had no idea that birthmother a manufactured term that was unleashed upon the adoption industry during the 70′s. Packaged at "Positive Adoption Language", or PAL, the change in terminology was first introduced by a social worker. Since then it has been embraced by the adoption field and has become what is known as "Respectful Adoption Language" or RAL. The official word is that the changes in language "acknowledges the thoughtfulness and responsibility of birthparents who make an adoption choice. Negative adoption language tends to judge birthparents harshly or portrays them as victims."
I would have denied it at the time, but in many ways, a birthmother is a victim. I was a victim of life, dysfunction, poor choices, a demand, societal pressures and of my own fertility. I didn't plan this happening to my life. Can you imagine hearing a 6 year old child utter the words:
 "When I grow up, I want to be a birthmother and give my baby away for adoption"?
Of course not.
No One Ever Wants to Become a Birthmother.
Why would they?
In order to be considered a birthmother a woman is asked to willingly endure, for the sake of others, the ultimate of sacrifice; the separation of a mother and child for eternity. It's rather a desperate act and represents a dark time in one's life. Not just a word, but a life's decision with irrevocable and unforeseen complications. This simple "positive" word changes one's life forever.
Before the rebranding of adoption, people used the words "real mother" when asking about the woman who gave birth to the adoptee. The words "natural mother" were listed on countless legal court documents and relinquishment papers. This use of terms upset adoptive parents. If the other woman was "real" then the implication is that the adoptive parents were fake. If the other mother was "natural", then the adoption was "unnatural".
While the adoption industry might have realized that they needed to appeal to pregnant women to maintain the supply of babies, they also needed to keep the prospective adoptive parents happy. After all, they were they paying customer.
So with birth, comes the separation. Becoming the woman and you are separated from your child. After birth, after adoption surrender, the word keeps the lines of separation drawn. How many times have I heard, "Anyone can give birth, but to be the real parent.."
What Do We Hear When You Say "Birthmother"?
There is a huge silent "ONLY" that lurks before the word, probably just like the silent "UN" imagined before "natural". Fostered by the very industry that contributed to the darkest days in our lives, we are reminded that we are not THE mother, but ONLY the body that gave birth because it makes everyone else feel happy.
The very same industry that told us that we would "get over it" and our babies would have the "best" lives and be happy, coined a phrase and insisted that we embrace this social identity to "define an individual's place in society". Yes, the word birthmother defines the separation of us from society and from our babies, but only based on other legal creations. The separation does not happen in one's heart, in one soul. The signing of some legal piece of paper cannot, no matter how they might brand it, truly make us NOT be mothers.
The minute we give birth, we become mothers. While I did not parent my son, but my role never ended at birth. Now, understanding the history of the a word manufactured to make others benefit from our loss, from our misfortune; this word represents a legacy of separation. It represents continued oppression. It has been said:
"The PC [political correctness] movement exists not in order to improve the well-being of those whose oppression it purports to combat. Rather, its purpose is to wrap its proponents in a kind of verbal comfort-blanket."
Many birthmothers are not comforted by knowing that they were used by a profit driven industry that caused life long harm to themselves and their families. We do not find that we are empowered by a word given to us by those whose jobs were to take our babies. And we do not accept this as our role in society.
As quoted from Julia Penelope: "Language forces us to perceive the world as man presents it to us."
For many women who have surrendered to adoption, we cannot perceive the world of adoption as the industry wants us to and when you call us "birthmothers" you assist, even unknowingly, with that oppression.
***
I know that by writing against using the word Birthmother, I seem terribly hypocritical since I use the word Birthmother all over the blog here. There is a reason for that: Google Search Engines. If I was to write using the terms preferred, such as MOTHER ( which is what I consider myself for ALL my children), then due to Adoption language and SEO, this blog could not be found by the people who need it.