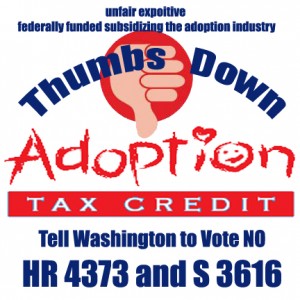 Why It's Wrong, Exploitative and Unfair;  I Won't Support HR 4373 and S 3616
The Adoption Tax Credit is a federal tax credit, supported by the Government and the IRS that allows adoptive parents to receive up to $12,650 ( 2012 amount) in a tax refund for adopting a child. Adoptive parents submit their qualified adoption expenses that are considered "reasonable and necessary adoption fees" such as court costs, attorney fees, traveling expenses (including amounts spent for meals and lodging while away from home), and other expenses directly related to the legal adoption of an eligible child.
While the original adoption tax credit was created to benefit the adoptions of special needs children, successful lobbying from adoptive parents and the adoption lobbyists have increased the credit by both the amount refunded and the range of adoptions covered.
The Adoption Tax Credit now covers expenses paid in an unsuccessful attempt to adopt an child before finalizing the adoption of another child can qualify for the credit. The Adoption Tax Credit now applies to domestic and international adoptions. Credit for expenses for international adoptions can be claimed only after finalization; for domestic adoptions, the credit can be applied even if the adoption does not go through.
Who the Adoption Tax Credit Helps?
Proponents of the Adoption Tax Credit claim that the credit /refund is set up to help make "adoption a financially viable option for many parents who might not otherwise have been able to afford adoption, allowing them to provide children with loving, permanent families"[1]  Yet, the modified adjusted gross income cut off for the current Adoption Tax Credit is $225,210 or more.[2]  The poor improvised adoptive parents are warned that if their modified adjusted gross income is above $185,210, then they might not be eligible for the full credit. I don't know about you,  but $185,210 is hardly an amount that screams poverty or in need of financial assistance to me.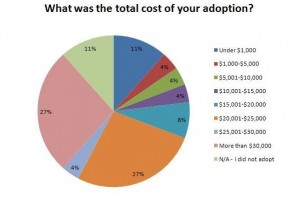 I'm sorry, but if you can't afford the crazy adoption fees or need to have a bake sale to afford your adoption, then DO NOT ADOPT. Or adopt through FOSTER CARE as those children REALLY NEED HOMES ( acknowledgement that CPS are also corrupt)
Who the Adoption Tax Credit Hurts?
As we know that many domestic infant adoptions are "chosen" in these times due to the financial constraints of the expectant families. Many mothers look to adoption to help them pay for their medical and living expenses while they cannot work due to pregnancy. They also look to adoption to provide financial stability for their child.  These are mothers who when asked "If you won Lotto tomorrow would you still consider placing your child for adoption?" say "NO!".
These are mothers who are not having unwanted children, or children that are in any danger from abuse or neglect, but rather their mothers fear the doom of impending poverty and see financial assistance as induction to the stereotypical "Welfare Momma" for life.  These are mothers who would parent their children especially if they a had a guaranteed windfall of over 12,000 at the end of the tax year. The same 12K could go towards medical bills or baby supplies or just living expenses while a new mother stayed home with her child.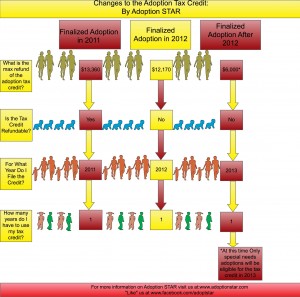 Approximately 15,000 voluntary domestic infant adoption relinquishments take place in the US every year.
On the other side, the existence of the Adoption Tax Credit does provide additional  incentives that allow a family to pursue adoption. By making "adoption more affordable" to people who make over 100K a year anyway, we are increasing the demand of adoptable children in the US and providing more incentives for the adoption agencies to identify at risk families that they can separate from their children for their own profits.
Let us remember that the adoption industry is over a 5.8 billion dollar annual industry. Historically, as the adoption tax credit went up, so does the adoption fees. In other words, the US government subsidizes the adoption industry this way through the Adoption Tax Credit.
In addition, by giving added incentives for adoptive parents to spend more money on adoption, they will look towards international or domestic adoptions more. This will actually HURT the children that MIGHT benefit most from being adopted, the children living in foster care. Of course, foster adoptions often are the lowest cost and with other subsidies, often practically free. So don't go telling me that  we "need the Adoption Tax Credits to help all the unwanted children". It hurts them.
The Fiscal Impact of the Adoption Tax Credit
While families adopting children who do not qualify as special needs are typically eligible to get a refund for their adoption expenses, families adopting kids who do qualify can get the entire $13,360 refund no matter how much they paid to adopt a child — even if they had no expenses. In other words, they got PAID to adopt. For example:
Deborah Schwinger, from Hamburg, Pa. received a $24,300 refund from the Adoption Tax Credit last year thanks to the adoption tax credit. In 2009, she adopted two children and went shopping . "The kids got new bikes from Walmart and I got a grill, I set up [bank] accounts for the children, I'm working to get us a bigger house, I no longer live paycheck-to-paycheck and have little debt. We have everything we need and we get a few things we want."
The Wards, a family of 12 from North Carolina, received a $54,000 refund from the Adoption Tax Credit last year.
Nearly 100,000 returns claiming adoption tax credits were received in 2011.
In all, $1.2 billion in Adoption Tax Credits were claimed in 2011.[3] If a 12,000 Motherhood Tax Credit was given to women to use instead of placing their child to adoption, that would only cost 180 million. That would be an additional 1,020,000,000 saved in unpaid tax credits. I would dare say, that given other income limitations, we could tax the same moneys slated for the Adoption Tax Credit and offer it to other low income mothers as well or just reduce the National Deficit by a million dollars in one fell swoop.
The History of the Adoption Tax Credit
The credit has been around since 1997, but up until the 2010 tax year, it was always a non-refundable credit — meaning it would offset any taxes owed, and anything that remained was carried over to the next tax year.
2012      Adoption Tax Credit Amount $12,650
2011       Adoption Tax Credit Amount  $13,360
2010       Adoption Tax Credit Amount  $13,170
2009       Adoption Tax Credit Amount  $12,150
2008       Adoption Tax Credit Amount  $11,650
2007       Adoption Tax Credit Amount  $11,390
2006       Adoption Tax Credit Amount  $10,960
2005       Adoption Tax Credit Amount  $10,630
2004       Adoption Tax Credit Amount  $10,390
2003       Adoption Tax Credit Amount  $10,160[4]
President Obama's Affordable Care Act of 2010 made the credit refundable so the money would go directly into the taxpayer's pocket rather than being applied to future taxes owed.
In 2011 Adoptive Parents claimed up to $13,360 for each child they have adopted in the past six years on their 2011 tax returns this year — an increase of $190 from the year before, and the amount that they are pushing for now to be permanent.
What You Can Do About the Unfair Adoption Tax Credit
There is now a Senate companion bill (S.3616 ) to H.R. 4373 that is in the House. These bills would make the Adoption Tax Credit permanent and refundable.  Many adoptive parents groups and adoption agencies are asking for letters of support and calls, emails sent to  Representatives and Senators to support the Adoption Tax Credit Bills.
It's "push BACK time" people. Please ask your Senators and Representative understand that HR 4373 and S 3616 are exploitative and used to SEPARATE FAMILIES by ADOPTION. They need to  understand that giving tax payer money to adoptive families rather than assistance to mothers is unethical and wrong. 


If the proposed Adoption Tax Credit Bills do NOT get passed, then ONLY Special Needs Adoptions will be eligible. I have NO issue with that!
Huge Thanks to Eileen for sharing PopVox with us!!
Lookie: Send your Letters to Congress NOW
The Adoption tax Credit Bill in the House:
The Adoption Credit Bill in the Senate
You have my permission to copy, paste, link or whatever to any of the materials here.