How are Prospective Adoption Parents Supposed to Know How Ethical an Adoption Agency Really Is?
An Inside Look from a Birthmother's Perspective
Adoption is particularly hard because it is never something we really learn about before we find it in our lives. I know I never dreamed that one day I would grow up, have a baby, give him to other parents to raise and not see him for 19 years. I believe that is true for many adoptive parents as well. Maybe you always felt that you would eventually adopt a child, maybe you were always intrigued, maybe you thought about it long and hard, or maybe suddenly, you just felt that you were thrust into it, maybe you entered it blindly; I don't know, but I bet, looking back now, you would say that you had no idea what the experience of adoption a child would really be like. That you think now there was no way to have planned for it all. You could not have known.
There are lots of things none of us know well about the adoption process until we have gone through it. And even then, a lot depends on our perspective, what information we are given, who presents us with the information, and how emotional invested we already are. It's hard stuff.
I think most people go into adoption with the best of intentions and are pretty trusting. We accept that the professionals who run the agencies and provide us with information know what they are doing. The problem is that sometimes, even what is considered acceptable practice is, well, pretty unethical. What's worse is that the many adoption agencies don't even know that they are being unethical because that is how they learned to provide adoptions. And sometimes, they focus on what is purely legal, and THAT does not always cover ethics at all.
How Can a Well Meaning Perspective Adoptive Parent Know Who to Trust and What is Right?
First, take a look at your agencies website from the eyes of someone who is pregnant and considering adoption. Imagine that you are facing an unplanned pregnancy and google "pregnant help" or "I'm pregnant". Check out the search results that come up on the paid listings of the search engine. Is your agency there? If so, then they are paying to be listed when someone is looking for information about being pregnant. Guess who owns http://www.impregnant.org/?
Look at Their Adoption Informational Pages
I bet they have an area on their main navigation bar for "Birthmothers". Right there they have seriously made a huge ethical error. A woman who is facing an unplanned pregnancy and considering adoption is NOT a birth mother. She is a woman facing a crisis pregnancy and considering adoption. She cannot become a birthmother until AFTER she has first become a mother and given birth and second, signed the parental relinquishment forms. This is a subtle form of mental preparation that allows a woman to think of herself AS a birthmother before she truly is one. It also makes it harder for her to change her mind after birth. Now I know most agencies just do not acknowledge that. In fact, many adoption professionals fail to see the unethical wrangling that goes along with such a seemingly minor faux pas.
At the Evan B Donaldson Adoption Institute / Ethica's Adoption Ethics conference in 2007, one of the panelists was from the American Association of Adoption Attorneys and with a room full of hundreds of people telling her to this, she still fought and struggled with not calling a considering mother a birthmother. She, ironically enough, was appointed Chairperson of the Birth Parents Representation Committee, published the Representing Birth Parents Handbook and presented the Ethical Representation of Birth Parents program. She also handed out paperwork that "joked" to "beat birthparents with a stick" or "wave a carrot in front of their nose" to get them to be truthful about medical information. The "professionals" are not always the most knowledgeable!
But, back to the agency website. Look at the information they present to a considering mother. Do they have "testimonials' from other happy birthmothers? Read them. How much do they speak of sadness? Of Grief? Are the mother's stories very recent? How much information do they supply about "free services"? How prominent are the waiting families' profiles? Do they have access to "Dear Birthmother Letters" from there?
How About Their "Adoption Facts?"
Do they mention anyplace about the long term risks of relinquishment? Quote any scientific studies? They exist you know. There are actual academic studies that discuss at length the long term affects of relinquishing a child to adoption and not many of those studies have the words "peaceful and content with their decision" in them. I have yet to find one agency in the US that supplies considering mothers with the fact that these studies even exist, much less the results so a woman can make a truly educated decision.
What Does the Agency Website Say about the Father's of the Baby?
Do they reassure the young mother to be that he "won't be an issue" and they "know how to handle them professionally"? Do they explain at all that if he wants to parent then he has the right to or is he made to sound like a minor irritation? Is the agency in a state that is known for stripping fathers of their rights, such as Utah?
What do They say About Parenting?
Do they have a long laundry list of the horrors and trials of parenting? Do they supply a list of questions that our fertile girl "needs to think about" such as "Am I prepared to provide constant love and support for this child 24/7 for the next 18 plus years?" or other equally frightening scenarios. Do they mention anyplace that parenting is worth all the sacrifices made?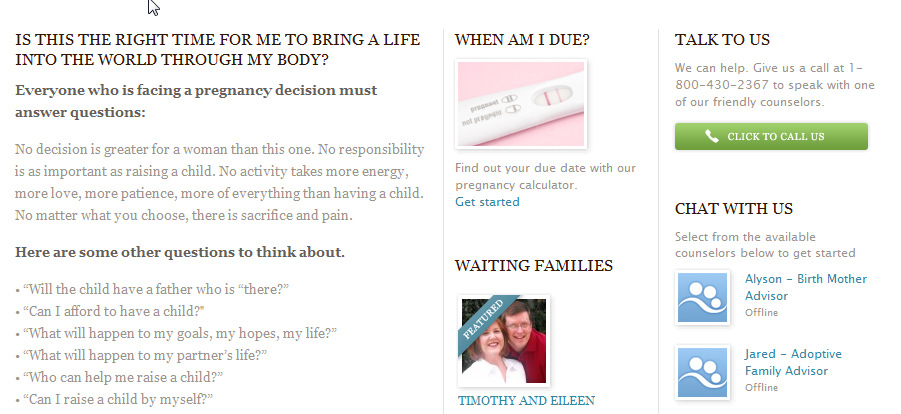 How do They Discuss Open Adoption?
Most sites make it sound like a choice completely made on the 'birthmothers' terms. Her right, her choice, her decision. Maybe they even mention a written agreement, but do they discuss they true legalities of relinquishment and how in most states open adoption are not legally enforceable.
Do They Provide Housing Assistance?
Do they have a state of the art "campus" for birthmothers where they live together and get taken care of and get counseling? Are they open to moving a woman out of state to where they are? So she is removed from her family and friends and any possible parenting support? Do they mention that perhaps the adoption laws in the state she is being moved to is a bit more friendly for adoptive parents and perhaps the revocation period is smaller or nonexistent?
My guess is that most of the agencies will fail this, but let's go a bit further. Continue pretending that you are pregnant and fill in the contact form requesting more information. Give them your phone number too.
Now wait.
How long do you think it will be before you get the information? Most arrive Fedex. They are usually very glossy and packed full of more glowing "testimonials" and more waiting families. Go over the same check list as above. Wait for the phone call and the post cards and the follow up phone call "checking in" on how you are in making your decision. I send for the packets quit often. I have a collection. I have had some agencies call me multiple times, send postcards and more letters. I have felt stalked and I was not pregnant, scared, and in a bad situation.
Unfortunately, Most Adoption Agencies Can be Seen as Very Predatory in Their Recruitment of Birthmothers
Because the numbers of women who consider adoption have gotten so much smaller and the demand for domestic infants has continued to grow, a pregnant woman considering adoption can have a whole slew of agencies vying for her attention. While none of them can legally purchase her baby, they can offer her more and more in the way of services and the benefits of adoption. For instance, on Facebook, there is a page called I Love Adoption which seems to be so very open and supportive of all things adoption. Except the facts or any feelings that don't make adoption sound like anything other than rosy, then your post gets taken down and you are banned. Not surprisingly, the page is maintained for an adoption agency who profits from adoption. And their website? It fails the adoption ethical test with flying colors!
There is also, no one regulatory agency that oversees what they say, what information they provide and the truth in their advertising. Hence, what they do is legal, unethical and completely untrue.
What a Prospective Adoptive Family Do?
What if you are already signed with an agency and in the middle of the process? What if you have already written an adoption agency a non refundable check and all your hopes and dreams are bent on them finding you a baby? What if you actually LIKE that they go to free pregnancy centers and hand out pamphlets' to obviously young pregnant women or go to public assistance waiting rooms, or speak at high schools because it increases the chances that you will build your family?
If that is the case, then I would ask that you imagine looking you child in the eyes someday and explaining to them how the adoption agency that their birthmother went to for help used mental coercion and denied her the truth and facts in order to make the decision. Barring that, I will assume that you really only want to adopt a baby who truly needs a home from a parent who truly made the decision to relinquish her baby. As I said, I believe that most people have the best intentions and I doubt any one really want to be involved in something unethical. I will assume that you are at least somewhat disgusted by my accusations.
Now Here's an Interesting Fact: The Adoption Agencies NEED You.
They like to lay it out that the birthmothers hold all the cards and they need to kowtow to her wishes, but in essence, she costs them money. Adoptive parents, on the other hand, pay the fees.
You can, in a position of power, tell them that you don't LIKE the way they present themselves (and in essence you) on their website and you can request them to change it. They might not know any better either. They might not have a clue and just do it this way because "it's how it is always done", but that does not make it ethical. Just as you care enough to feel kind of icky about what is considered common practice in US adoption proceedings, they might too, but you need to tell them.
Tell your adoption agency that you demand ethical advertising and truthful facts.
Expect Your Adoption Agency to be Ethical
Now, you know what to look for.
Share on Facebook