June 15th, 2015 EDIT: The information regarding the opposition of Helene Weinstein's  office and blockage of the NY Bill of Adoptee Rights is actually now in question. This message that Ms. Weinstein was "the issue"  always came directly from Joyce Bahr of Unsealed Initiative. That validity of that leadership is now a cautionary tale of what NOT to do. 
Local New York Adoptee Rights Protest for OBC Access
Who:     NY's Unsealed Initiative: www.unsealedinitiative.org
When: Sunday September 29th, 2013 at 12:30pm
Where: NY State Assemblywoman Helene E. Weinstein's Brooklyn, NY district office at 3520 Nostrand Avenue Brooklyn, NY 11229
Why:     She is THE biggest opponent  to NY Bill of Adoptee Rights Legislation
Why Are We Just Going after Helen Weinstein?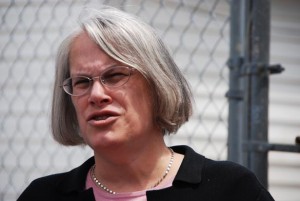 Helen Weinstein has repeatedly prevented New York State's  Bill of Adoptee Rights from moving forward for a vote on the assembly floor. SHE is the obstacle.
Once again Brooklyn Assemblymember Helene Weinstein, Chair of Judiciary Committee, has stepped in to hold A909 from advancing to the assembly floor for a vote. She has stymied our legislation and continues to say the birth parents were promised confidentiality which we know is not the case. Every non-adopted person can easily obtain their original birth certificate. Adult adoptees should have that same right. Having one class of people treated differently than another based on the circumstances of their birth is the definition of discrimination. This is a violation of adopted citizen's civil rights!
New York, being New York, is also VERY IMPORTANT to the rest of the countries fight to restore OBC access to adopted people. If NY was to restore adoptees civil rights, other states could turn quicker. New York, it has been said, "sets the tone".
Do You Want Your Birth Certificate from New York State?
Then make it so! Make this important. Do NOT make excuses! Please join us and let our voices be heard! We can no longer just sit back and say "pass this!" We have WORK to do!
If you cannot be there in person, please write her, call her, email her. As her "concern" is the adoption mythology of "birthmother privacy" , if you have a particular point to make on that side of the issue, it would be best.
Email Helen Weinstein about the need to support adoptee rights at: WeinstH@assembly.state.ny.us
Helen Weinstein' s District Office
3520 Nostrand Avenue
Brooklyn, NY 11229
718-648-4700
Helen Weinstein' s Albany Office
LOB 831
Albany, NY 12248
518-455-5462
Below is Assemblywoman Helene E. Weinstein's contact/address information page where you can also fill out her contact form and email her that way.
http://assembly.state.ny.us/mem/Helene-E-Weinstein/contact/
Need to now more about the Battle to Free Adoption Records in New York?
The history of sealed adoption records in the US and the current battle in New York's legislation to free them in parts I, II and II.
Share on Facebook