What Does the West Australian Adoption Apology Mean?
For so many years, we have turned and looked to Austria as a model for adoption. Australia opened their records. Australia changed adoption practices. Australia does not nearly have the same number of domestic infant adoption as the US does proportionally. Australia honors the mother and child, their bond, values motherhood.
So very far ahead of us in America, and yet, the mothers in Australia kept on pushing for more. Records open; they can find their children that were lost to adoption. Laws change; they have effectively closed the doors to the sad birthmother club and take no new members. Not enough, they wanted more. They wanted the government to admit that they did them wrong. They wanted an official apology.
Mother's drugged, physically restrained, parental rights stripped and no one cared. The same Baby Scoop Era adoption practices went on in Canada and the USA before they repackaged adoption into "new and improved" open adoption that we have today. Canadian mothers want more too. And so do mothers in the US.
I Didn't Deserve Their Apology
For me, I didn't think it mattered. I understood and supported what our other mothers felt they needed, but I have to admit that I fell under that adoption trance again.


It's not me. That's not my story. I am not like them.
I forget, or maybe I just still WANT to forget, that the things that makes adoptions seem different from one generation of mothers to another were created by the industry to do just that: make us seem different. The key word here is seem.


I was taught that the way I relinquished was different than the mothers that went before me and it was. Adoption was presented to me as, yes, a story of her redemption. Yes, I am different and in my head, our senior mothers have a right to this demand, this righteous anger, that I do not have. For in ways, in my heart, I know I am not worthy of that anger
It's not me, that's not my story. I am not like them.
Just like I was taught by the Adoption Industry that benefited from me thinking Adoption was cool.
They kicked and screamed. I was tricked and chose. Drugged and tied, kept and smiling. Unwed and shamed like dirt or elevated to the strong selfless birthmother. How much of what I feel is still only because it is how I was taught to feel? Adoption was in the stages of being "repackaged" in the mid 80's and I bought into the program. The apology was not for me. The other mothers deserved it, not me. They suffered where I was stupid.
Formal Inquiry Into Poast Adoption Practices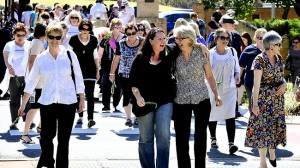 Of course, I watched, usually only out of the corner of my eye as I ran around on line doing a million other things. Posts on Facebook came with a new regularity. I knew they were getting closer in Australia. Don't get me wrong, I WANTED it to happen, but it wasn't on my radar; not my fight, not my right.
And then it happened:  Parliament ruled that the Australian governments must formally apologize to mothers and children who were victims of past forced adoption practices.
I shared. I liked. I rejoiced for our mothers in Australia, watched friends on the news and kept on my merry way. Maybe I even kept it a bit at arm's length, since I am being honest, because I don't feel like I deserve it. It's not me. It's not my fight, not my right.
And so, I am taken completely aback and downright shocked the next morning; sitting at my desk at work, running around Facebook like I do, and I see this: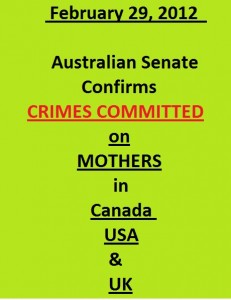 Here it is. It says US. And this is me. This is my story. This is my fight. I don't even know it until I completely break down, at my desk at work, in those HUGE ass gulping sobs like ..I don't know.. like I have been kicked in my gut and can't catch my breath. Body shaking, snot blubbering, OMG I am losing it because of a Facebook post? What. Is. Wrong. With. Me.
Never underestimate the power of validation. They saw the truth. They admitted that it was wrong, no, more than that, they said it was a crime. The way mothers were treated in adoption was a crime. Mothers in the US. Mothers like me. Yeah, it's a government, Yeah, It's not even MY government, Yeah, they are on the other side of the world. Yeah, I had nothing to do with making this happen.
But, I cried.
And I cried. I sat in my chair and sobbed. And I was completely and utterly shocked that I had so incredibly strong of reaction of a very primal level. Raw stuff. So raw that really, it kind of bugged me out. I really did not expect these feelings at all. So unexpected that it has taken me these last 2 weeks now just to think about the WHY I reacted like that and WHAT the Australian adoption apologies DO mean to me and to US adoption as a whole.
I am still incredibly move by this single sentence, this phrase "confirmed crimes committed against mothers". And no, it's not me, it's not my story; but I know what it means now.
Cruelty and Crimes are the FOUNDATION of Adoption
No, it's not my story. It's my preamble. It's the very foundation of what MY adoption experience. It's the foundation of ALL our adoption experiences. EVERY SINGLE ONE OF US who has had some sort of adoption journey should know that the start of the road began with CRIMES.
Once again, we get to a place where I have to say, it's not about you, but it is. No, it's not about me, but it is. This isn't about what happened to who, when and why; it's about the adoption industry as a whole being built on some really shaky ground; corruption, lies, cruelty. And yet from this
inhumanity we are supposed to trust that NOW, now adoption is different and it can be a beautiful thing?
No.
Just.
No.
Catholic Health Australia admitted being involved in past forced adoptions and apologized to victims in July last year.
Now in Canada, fathers are coming forward telling the same stories form the past, but in Utah father's fight with no rights to their children now.
The Salvation Army, who ran Maternity homes in the US and CA is looking into what they did, yet, Galdney, and the NCFA still maintain status quo. There is more noise about another Church examining their practices too. This article is really very good and Origins Canada is making lots of waves.
Like a house of cards, it falls. May the truth come out. May the light of truth reach us in the US; can it break the hold adoption has upon us? Yes, Sandy, I want to SEE THE OUTRAGE!!
The churches and religious organizations were often corrupt. The beliefs of the social workers and hospitals were unduly influenced. The profits of transferring the parental rights of children were unregulated and still are. The agencies and lawyers are making profits and using their influence to alter laws to make it easier for them. Adoptive parents were told what they wanted to hear and the natural parents were, and still are lead like lambs to a slaughterhouse.
Can a Leopard Change its Spots?
Can Adoption change? Did Adoption change? Did you forget like me? Did you want to forget and think that we now, are different in some way, that adoption is kinder, gentler, and nicer because now we separate babies and mothers with a smile and an entrustment ceremony? Really, you think so?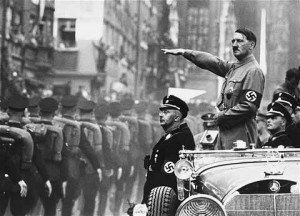 Then let me ask you this: Can we wrap up the Holocaust to make it look more appealing?  Is it OK because Hitler THOUGHT  it was a good idea? Was it OK because the victims really thought they were taking a shower? Can nice shiny uniforms, pretty red flags and healthy blond cheeks can't hide the stench of 12 million gassed? Or how about this? Can we ignore how AWFUL Hitler was then because we like Germany now?
Yes, Adoption is different now. Repackaged, remarketed and respun; we still are separating mothers and babies for profit and that still stinks. Kind and gentle, the foundation of today's current adoption practices are built on cruel and inhuman crimes. At the base of all our adoption experiences is a crime.
You don't have to believe little old me. The freaking Australian Parliament said so!
Share on Facebook