Adoption Conferences, Connections, Meet-ups and Listings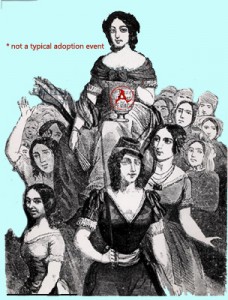 While the Adoption community is massive and wonderful online, there is nothing better than meeting up with likeminded people who understand the path that you have walked and the complex feelings that come from your place in adoption. Attending an adoption event is a great way to meet others who can understand your point of view and have discussions with no disclaimers!
There are various national adoption conferences that are yearly and bi-annually in different parts of the country. Also, there are many local adoption connections to be made and events organized by various adoption groups or even events that are adoption focused, or projects by those in the adoption community.
List Your Adoption Event
At Musings of the Lame, we see a great need to provide adoption connections as a means of supporting the adoption community.  You can list your adoption event, class, meeting, event, conference, call for papers, for FREE.
To submit your adoption event please click on this link and add as much information as you can about your adoption event. Incomplete events will not be posted, but I will contact you with any questions.  We receive these listings as they come in and they should go live within 48 hours on the site here. Each event is given its own URL on the site. Technically  you are "subscribing" to a "newsletter", but we're just using the forms to gather your adoption event listing information!
If you have any questions please contact Claud at FixAdoption@gmail.com
Use the Adoption Event Calendar to Find an Event Near You
Search by date, click on read more for details, open up the Goggle Map! The little arrow in the top right of the Calendar opens up the event in full screen mode. Don't forget to use the social sharing icons to share on your favorite networks. Sharing is caring! More detail and links to event organizers can be found on the posts below the adoption event calendar.