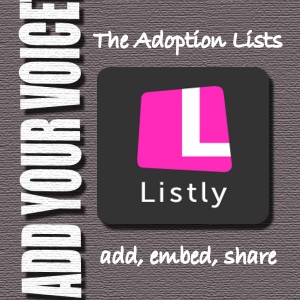 A Great Tool for the Adoption Community
Listly is a third party site that is great for group collaboration. It's easy to sign in, make a profile and collaborate.  I usually make a new Adoption List for subjects that seem to be wide conversations in Adoptionland. For instance if a bunch of bloggers are all talking about similar subjects, a Listly list allows us all to keep them in one place.
More Voices, More Shares, More Embeds
Listly updates in real time. So when you add something to The Adoption Lists, where ever the list is embedded, that list updates too. Even if you are not participating in a particular Adoption list, you can help by sharing the list link or, even better, embedding the list on your own blog or website.
To Embeds an Adoption List: all you have to do is click the embed icon on that list and choose the code that your site needs. Most of them work just fine with Java Script HTML.
Sharing and embedding The Adoption List is a great way to help support the Adoption Community!
This is one of those times when I am asking for your help on a project. It was barely two weeks ago when Facebook started exploding with the Adoptee Searching Picture memes. Though I know we all tried to keep up and share like crazy cakes, it's proving to be a difficult task! I was trying to share all the images of Adoptees begging for help finding their families, but I quickly had the longest blog post on the east coast. And then, I remembered Listly!