Ripping Apart A Pet Peeve in Adoption the "Gift"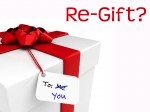 So while this post isn't any worse than any other "Adoption is a Gift" thoughts, may I say that they ALL get my blood boiling. This post happens to be from "Adoptimist" who I find to be particularly aggressive in their marketing tactics and horribly one side in their views. Not surprising, while this post does touch upon the grief and loss of adoption and "how difficult this day was for our daughter's birth mom" it does focus on the desires and dreams of the PAP's and then, there is, the kicker:
Our social worker, an adoptee herself, reminded us: "You're not taking anything from her. She is giving this gift to you because she wants to."
OMG It's SO Foggy in Here!!!
So, an adoptee who has found their way into social work, perhaps to justify their own relinquishment, also considers a baby, much like herself, to be a gift? Does she wrap herself up in a big red bow? OK, I know that is not kind of me and I should respect other's on their journeys but when one is spouting off pithy lines of BULLSHIT that contributes to the destruction of a family, I kind of lose sight of my compassion. OK, back to this "gift" crap.
So What Exactly is Considered "the Gift" in Adoption?
There's a whole slew of "gift" talk roped into the adoption mystique. "The Gift of Life" – blah blah blah  insert the tired and completely incorrect thought process that a birthmother is "choosing life" because she hasn't managed to find her way to the ( hopefully) local-ish abortion provider. No, sorry, still not going to get me to go there; adoption is NOT an alternative to abortion.  What, you think I am, silly? Fine go find a non birthmother woman who has had children and thank HER for "choosing the gift of life". Really, go walk down the street and see a woman with kids and thank HER for choosing the "gift of life". Not adopted yourself? Good, go call your own mothers and thank HER for "choosing the gift of life".  Can't imagine doing so can you? Because it seems insane, right? Yeah, then don't go assuming that birthmothers have made some giant  proclamation about  "Life" or have done something more spectacular than any other woman who has gotten pregnant and had a kid. Birthmothers do not genetically enhanced or defaulted DNA. Not sinner and not saints, mmmmkay?
"The Gift of Family"- Ok, a bit more PC and trying to be sweet, but really all too saccharine and coy. Again, this degrades a birthmother to the role of the "family building angel" which is just ridiculously limiting and not at all realistic.  Now I understand that there are many adoptive parents who are just eternally thankful that they have a family aka children due to adoption, but can I just say again that the whole "gift" thing is just very limiting?
"People are Gifts" – yeah, no. Just no.  Or as  commented perfectly;  "It has not been legal to give people as gifts in the US since the Confederacy lost the Civil War." To avoid the huge hoopla that follows when one puts adoption and slavery together in the same sentence, I'll just leave it as that and let you make your own interpetation.
"All Children are Gifts" – I had shared  the link to the Adoptimist post above a few days ago on Facebook and it had some interesting discussion
"I will say that children are gifts no matter how we get them and I think that's all that was meant by that. I mean, how do we expect adoptive parents to act? Regretful? …. I would be so sad if my mom and dad didn't see me as a gift just because I'm adopted. "
"Children are Gifts?" OK then if children are gifts and I will even go so far as to play the "Gifts from God", then the focus on Adoption is unnecessary. The post itself should be simply about the joy that mother is feeling regarding having a child in her life at Christmas time. But that's not the case, is it? She is writing about the "gift given" in her daughter and she would not be a recipient of that gift which brings us back to limited the birthmother  into the role of the "family builder". It defines a birthmother, literally as a transitional object with her role, her job, to give birth and move on, but let's just let this role around on your tongue for a hot minute.
God, Gifts, Children, Adoption? Yeah.. Let's Go There!
So, there is also tons of talk about in AdoptionLand where we thank God for Adoption and the gifts it implies. Some people love to say God guided then to Adoption and even to a particular child. There was a great New York Times post bout Adoption Destiny and Magical Thinking which did lead to many conversations about that very topic and were added to the  Adoption Lists.
Now, I do not for a second buy into the thought that God actual PLANS for some mothers to face such adversity that they feel they must choose adoption and suffer this loss because God just happened to "put the baby in the wrong tummy". Like I am not a church going girl, but I am just fine with a concept of a higher power, good vs. evil and all that jazz, yet even in my " I don't read the Bible" brain I happen to know that one of the biggest lines on the Holy One's resume is "God Doesn't Make Mistakes". So even in my limited non-churchy view the "tummy mommy" concept complete contradicts the "doesn't make mistakes" idea.
Rather, it is MY understanding that God only gives us what we can handle or something, right? And even if you don't know why God has put these "obstacles"  before you, one must "Trust God", right? ( See, I don't share the God memes on Facebook, but that doesn't mean that I don't read them. )  So if I am to believe the Holy Memes, then God puts the RIGHT children in the RIGHT tummy even if we don't understand his kind of screwed up timeline at the time.  So following this logic, a Child, even unplanned, is  GIFT from God given to the RIGHT Mother.
Hence, Adoption is Regifting from God!
Regift: (verb) To give an unwanted gift to someone else; to give as a gift something one previously received as a gift. Webster's New Millennium™ Dictionary of English, Preview Edition (v 0.9.6).
See, adoption both in bad outdated mythology and true Bible aspects fits the regifting definition! If we follow adoption mythology the "unwanted gift" can easily equal the " unwanted child" that is adopted. Likewise, if we accept that "adoption is a gift"  and "Children are gifts" then God gave the child to the mother who then gave the child as a gift to the adoptive parents.  The Birthmother is a regifter!!! Maybe I repeat the foggy statement of the adoptee social worker in question?
"You're not taking anything from her. She is giving this gift to you because she wants to."
Now perhaps it IS Jerry Seinfeld who can be credited with the beautiful concept that we know as "regifting" but notice that a baby is not in the skit, hence, NOT FUNNY.
Rules for Regifting Babies for Adoption
Now, Regifting Day falls on the third Thursday of December  which this year is the 19th. I'd like to see this day give National Adoption Day a run for it's money! Yes, it is an official holiday decreed by some company who decided to use Seinfeld as inspiration. According to the official Regiftable.com website, there are RULES to Resifting: and I just cannot HELP but to play with these as well and tie them into adoption because, well…. look how damn tempting it is!
Is the gift regiftable?  Never regift handmade or one-of-a-kind items.  Signed books and monogrammed items are off-limits.  Do you have to be told not to regift free promotional items?  Some gifts that are good candidates for regifting include good (unopened!) bottles of wine, new household items and inexpensive jewelry.
So then, based on this rule, children are NOT regiftable as they are most certainly  are both handmade and "one of a kind""
How is the condition?  Only new, unopened gifts in good condition should be considered for regifting.  Never give partially used gift cards.  Don't give items that you have owned for a long time.  A general rule of thumb:  if you have to dust it off, it is not regiftable.
Does amniotic fluid count as 'dust"? Is a born child considered "opened"?
Is this going to work?  Successful regifters use common sense.  If you are going to regift, be sure you know who gave you the item, so you don't return something to the original giver.  Only regift items to people who are not likely to see the original giver.
Yes, be SURE you know who you give your child too. A note of caution for the highly religious, since God sees EVERYTHING, the chances that he will find out that you regifted what he gave to you  is highly likely.
Do you have good intentions?  Don't just give a gift to give a gift.  Be sure that the recipient will appreciate the item.  Remember, if you feel that an item is undesirable, the recipient probably will too.  If you are regifting simply because you ran out of time, gift cards are simple to obtain and always well received.
If you are regifting your baby because you "are out of time"? I swear, I did not write these rules, but wow, how perfect. YES, if you are relinquishing/  regifting your child because you ran out of time, DON'T.  Don't just regift because you feel you must gift? Yeah, a mother is not responsible for giving her baby way to a couple  because she is obligated. And sorry, there is no way to know if your "gift" will truly be appreciated until it is too late.
 How does it look?  When it comes to gift-giving, go for show!  While gift bags in good condition can be reused, wrapping paper is a one-time thing.  Always spring for a new card or gift tag.
How does your baby look? Like YOU? Like Dad? In that case, then the recipients of the gift will likely know that it come from you. This might or might not become a problem later on.
Can you handle it?  If you don't plan to announce the gift as a regift, ask yourself if you can keep the secret.  Never feel guilty about regifting once you've done it.
Can you handle it? Well if you want a life time of loss and never ending grief, then baby regifting is perfect. If you are thinking that you can regift your baby and then be ok with I not feel guilty and be affected, then you have a rude awakening. If you have a heart and a soul, then you don't want to try to handle it, believe me.  You can search all you want, but true adoption healing will allude you. Accept what God did and move on with life. At least you will be able to at some point.
Have you considered your options?  An unwanted gift could be a welcome donation to a charitable organization. It is also an option to suck it up and keep an unwanted gift—after all, it was a gift.
Have you considered your options? Yes, I am repeating it. Have you considered OTHER options? Have you considered parenting? Have you considered that this baby is part of you and was meant for you? Have you considered that your child NEEDS you. That YOU have value? …. Yeah, yeah I know.. I'm repeating myself!! Oh and adoptive families, no matter HOW long they have struggled, and how MUCH they want a baby more than anything else are NOT A CHARITABLE ORGANIZATION even if they have bake sales!!!
Babies are NOT Fruitcakes!!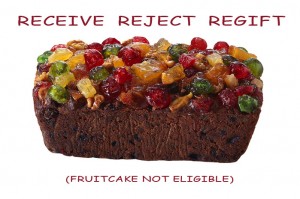 Now I don't know about you, but when you consider adoption to be regifting what God gives you, then I dare say it's a bit tacky and, again based on my limited churchgoing self, might annoy him when he finds out ( as is unavoidable) that you went and regifted your baby. Plus the trade off, I can promise you, is lousy!! They get the baby, even if it's not re-wrapped and in its original packaging and if you are lucky you might get a birthmother gift basket!
Share on Facebook